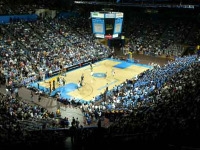 The Clippers of Tinseltown float into the desert tonight as Los Angeles faces the Phoenix Suns in U.S. Airways Center. The game can be seen nationally on TNT following the Bulls and Heat. Approximate tip off time is 10:30ET.
The Clippers have much at stake as they try to catch their Staples Center roomie, Los Angeles Lakers for the Pacific Division title. They currently trail the other L.A. NBA entry by just one half game, tied in the loss column. It would be the first time in team history that the Clippers would hoist a division winning banner. Start your NBA Betting action on Los Angeles Clippers vs. Phoenix Suns game.
The quest continued with a 104-98 victory against the Denver Nuggets in the Mile High City. Mo Williams had 19 points and Caron Butler 14 for the Clippers. Dunkmeister, Blake Griffen had just 12. Kenyon Martin got the go ahead score with 27 seconds remaining and then finished the Nuggets off by blocking what would have been the tying basket. Los Angeles made 14 shots from beyond the arc. The Clippers overall record is 39-23 and they have won 5 straight. They are 16-14 away from Hollywood. They're 13-2 in the last 15.
Phoenix(32-30) also has concerns involving the standings, but theirs are just to stay in the playoffs. They are one half game back from Utah for the eighth and final playoff spot in the West. Check the Sportsbook Odds for Los Angeles Clippers vs. Phoenix Suns game.
They didn't help their cause on Wednesday, falling at home to the second place Oklahoma City Thunder. In that one, likely sixth man of the year award winner, James Harden had 40 points for the Thunder. Kevin Durant had 11 rebounds. Jared Dudley had 21 points to lead Phoenix. Grant Hill sat out the contest with a sore knee. He will be a game time decision tonight. The Suns could use his defensive presence to help contain Paul.
The Clippers have dropped 9 straight in Phoenix. The Suns are 9-0 in the desert versus the Clippers since April of 2007. Phoenix is a 2 point home favorite on a $110/$100 moneyline. The same wager of $110 will be required to play the over / under of 197.
Open an account for the best Sportsbook Parlay and Vegas Teaser Payouts in the Industry.