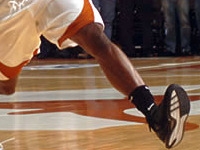 You wouldn't know Kobe Bryant has a broken nose, let alone a concussion, with the way he's been playing the past couple of games. Favored by 5 1/2 points over the Detroit Pistons tonight, the Lakers and Bryant should be able to continue their hot streak as the second half of the season continues.
All the trends show that the Lakers, who have won three straight games and have beat the Pistons the last five times they've met, will leave Detroit with a win tonight. They are also 8-2 in their last ten games. Start your NBA Wagering action on Los Angeles Lakers vs. Detroit Pistons game.
Bryant has been on fire since Miami's Dwayne Wade fouled him hard and gave him the concussion and broken nose him in the All-Star game. Even though the star has had to wear a mask to prevent further issues, the injuries seem to have galvanized Bryant, who has shot over 54% and scored 34 points a game since. Overall he is averaging 28 points, almost five assists, and almost six rebounds a game.
All of the credit can't go to Bryant. The Lakers seem to have been motivated by the injuries to their star, continuing to play stellar defense. They are one of the best in the league, limiting teams to about 42% from the field and just 91.4 points per game. Detroit only manages to score just over 89 points a game. Check the NBA Odds for Los Angeles Lakers vs. Detroit Pistons game.
This means that the Lakers at Pistons could be a game that's got a fairly low final score, and because of this the over/under is set at 186 1/2. The Pistons have also lost four of their last five, so the Lakers would seem to be in prime position to easily take care of them, even though the game is in Detroit. Both teams have some big scorers, but look for a defensive battle that could be determined on the boards, or by who has fewer turnovers.
Open an account for the best Sportsbook Parlay and Vegas Teaser Payouts in the Industry.