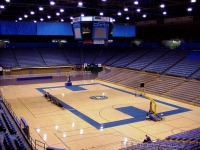 The NBA 2012 preseason ends this week and the games that count will begin on Tuesday, October 30th with three contests on tap. Two of those three will include the 2011 champ Miami Heat vs. Boston and the new look Lakers against the Dallas Mavs.
Thus far in the exhibition schedule you have the Philadelphia 76ers leading the east at 5-1 even without the help of newly acquired Andrew Bynum. Their latest victory came at the expense of the Celtics 88-79 on Sunday night.
Golden State has been a surprise, matching the Sixers 5-1 mark while leading the Western Conference. They beat the Trailblazers 101-97 Friday night. Check the NBA Odds for the upcoming 2012 NBA Season.
At the bottom of the preseason spectrum we surprisingly find the L.A. Lakers, who are the only team not winning a game so far standing at 0-6. You might want to cut them some slack, realizing that Dwight Howard made his season debut just last night in a 99-92 loss to the Kings. This was the first time the core of Howard, Bryant and Nash have played together.
It was also announced on Sunday that Amare Stoudemire would miss the first 2-3 weeks of the regular season due to an injured knee. This could take away some of the spark generated by the Knicks versus Brooklyn Nets season opener on November 1st.
There are 6 preseason games tonight, and the home team is favored in every one of them. The 76ers are 2 ½ point favorites over the New York Knicks. The Toronto Raptors are 3 point favorites over the Milwaukee Bucks. The Dallas Mavericks are 4 ½ point favorites over the New Orleans Hornets. The Phoenix Suns are 3 point favorites over the Sacramento Kings. The Portland Trailblazers are 3 ½ point favorites over the Utah Jazz. Finally, the Los Angeles Clippers are 6 ½ point favorites over the Golden State Warriors. Start your Basketball Betting action at SBG Global for the upcoming 2012 NBA Season.
There are a few games worth paying attention to this week. On Tuesday, the Thunder play the Bulls in Chicago. The Knicks play their new cross-town rival Nets on Wednesday night, while the Mavericks take on the Thunder in OKC. Also on Wednesday, the Lakers and Clippers battle at Staples Center. To wrap up the preseason on Thursday, the Pacers play the Bulls, while the Hornets face the Heat in Miami.
Check back with sbgglobal.eu Sportsbook, starting next Tuesday as the NBA regular season gets underway. On tap for opening night are the Celtics taking on Ray Allen and the rest of the Miami Heat, as well as the Dallas Mavericks playing the new lineup of the Los Angeles Lakers.
Open an Account for the best Sportsbook Parlay and Vegas Teaser Payouts in the Industry.