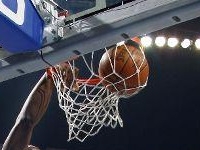 The 2012 edition of the National Basketball Associations players draft will commence tonight at 7:00ET in the Prudential Center in beautiful downtown Newark, New Jersey. Both rounds can be observed nationally on ESPN with additional coverage on the NBA network beginning at 5:30ET.
Does it seem odd that the draft is being held in a city that no longer has an NBA entry? Poor New Jersey is losing it's Nets to Brooklyn next year. However, that is probably not as strange(or as suspect) as the New Orleans Hornets acquiring the first NBA Betting pick of the draft from the ping pong lottery held last April.
No matter how much David Stern defends the "luck" of the Hornets to the likes of Jim Rome, it just makes you wonder. After all, New Orleans was run by the league last year prior to its sale to Tom Benson. With that, however, it will be a bigger surprise if Stern doesn't show up himself as opposed to New Orleans selecting power forward Anthony Davis of Kentucky with the first pick.
Why couldn't the Bobcats have won that lottery as the Basketball odds say they should have? Then there would be actual intrigue as to whom Michael Jordan as Charlotte's owner would have picked number one. Is there anyone named Kwame available this year?
After Davis is selected, the next ten picks may go in a variety of orders, but no one is expected to be a franchise player like Davis. He has actually been compared to LeBron James, although I believe that to be a stretch. I like the Scottie Pippen comparison myself, which is not a bad thing either.

Michael Kidd-Gilchrist, Davis' teammate on the Wildcats, may go number two to the aforementioned Charlotte Bobcats, but there is much speculation about the possibility of trade with Charlotte moving down to pick up additional picks and/or players.
Others expected to go in or near the top five include, Bradley Beal, a shooting guard out of Florida, power forward Thomas Robinson from Kansas and Harrison Barnes, a small forward from North Carolina.
Not only did New Jersey lose a team, but the group headed to Brooklyn doesn't have a pick in the first round. Nor does its Manhattan counterpart, the New York Knicks. I guess Stern would just say chalk it up to bad luck.
Open an account for the best Sportsbook Parlay and Vegas Teaser Payouts in the Industry.