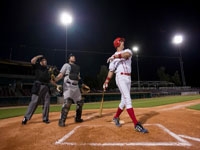 World Series betting: Giants vs. Tigers Game 3. The long flight from San Francisco to Detroit will seem even longer for a Tigers team that returns to the Motor City with their tails between their legs. Game 3 on Saturday night will begin at 8:05 PM ET in Comerica Park with temperatures expected in the mid 40's and a 40% chance of rain. FOX will cover the game on TV.
The forecasted weather may be appropriate amid the doom and gloom of the Tigers dropping the first two games to the Giants by the bay. Do you want the rest of the bad news? They haven't faced Matt Cain or Ryan Vogelsong yet. That will change when Vogelsong takes the hill in this one.
Detroit was favored in the series opener on Wednesday, as was expected with Justin Verlander on the mound for them. But it was "Panda-monium" for San Francisco as the aptly nicknamed Pablo "Panda" Sandoval connected for 3 home runs, 2 off Verlander, in an 8-3 triumph. Start your Baseball Wagering on Tigers vs. Giants Game 3 .
On Thursday, there were less fireworks and just some solid pitching on both sides, but especially by the Giants' Madison Bumgarner who threw 7 shutout innings for the "W." Final score: 2-0 in favor of San Francisco.
The aforementioned righthander, Ryan Vogelsong takes the ball for the Giants on Saturday. He had a strong outing on October 21st against the Cardinals, going 7 innings and allowing just 1 earned run. For the Tigers, it will be another righty, Anibel Sanchez, who had an even better performance in his last game, almost 2 weeks ago, shutting out the New York Yankees in 7 frames.
The Giants are 5-0 SU in their last 5 playoff games, and 8-2 SU in their last 10 as an underdog.. They are 5-1 SU in Vogelsong's last 6 starts. Check the Baseball Wagering Lines for Tigers vs. Giants Game 3.
The Tigers are 5-0 SU in their last 5 games played on Saturday. They are 5-0 SU in their last 5 playoff games at home. Detroit is also 8-1 SU after scoring 2 or fewer runs in their previous game, and 9-2 SU after allowing 2 or fewer runs in the last game. However, they are now 0-5 in their last 5 World Series games.
The OVER is 4-1 in the last 5 meetings between these two teams in Detroit. The Giants are 4-1 SU in their last 5 matchups with the Tigers.
Detroit is a home favorite in this almost must-win affair at a -$148. Looking at SBG Sportsbook's baseball odds, San Fran is listed at a +$138. The O/U of 7 total runs is on a $115/$100 moneyline.
Open an Account for the best Sportsbook Parlay and Vegas Teaser Payouts in the Industry.