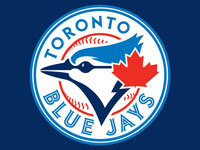 The Toronto Blue Jays took the World Series north of the border with victories in 1992 and 1993. The team hasn't reached the playoffs since then but the Jays are going all out to get back in win it all.
The Jays are 64-52 as of August 14 and have held two eleven-win streaks during the season. The extensive trades that the Jays made have particularly helped the Jays to become competitive this year. These include big trades for David Price and Troy Tulowitzki.
The Blue Jays have actually taken the lead with +375 betting odds to win the World Series. The Kansas City Royals are the closest to the Jays at +500.
What Big Names Are There?
Josh Donaldson may end up being a competitor for the MVP title in the American League. He has a .293 average and 31 home runs this year. He also leads the Jays with 85 RBI. Jose Bautista also has 27 home runs while Edwin Encarnacion has 21 homers.
The team's pitching has especially been prominent. Marco Estrada has a 3.21 ERA while Mark Buherle is not too far off with a 3.31 total. Drew Hutchison has 110 strikeouts while Roberto Osuna has twelve saves.
Meanwhile, David Price has continued his momentum for the Jays. He has a 2.35 ERA this year when compared with his work in Toronto and his earlier games with Detroit this year.
Big Totals
The Blue Jays have 615 runs this year, a total that leads all of baseball. The team's .330 on base percentage has the top lead in the sport as well.
Who's Contending?
The New York Yankees are 62-51 and are going after the top of the division. The Jays and Yankees are expected to be big competitors although whoever doesn't win the AL East is expected to hold the top wild card position. The teams will face each other ten times during the rest of the season with six games at the Rogers Centre and the others at Yankee Stadium.
The competition going on between the Toronto Blue Jays and the rest of the American League is expected to be exciting to watch. This could be a big year for the team.