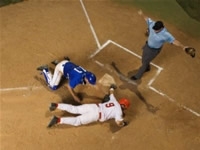 Cincinnati travels to the city by the bay to begin a long four game set this weekend against the San Francisco Giants. The first pitch of game one is scheduled for 10:15ET in what is expected to be a cool night at AT&T Park. The game time temperature is predicted to be in the mid fifty's.
It should be a cool MLB Betting series overall, with two first place teams matching up after the Giants (43-33) completed a sweep of the rival Los Angeles Dodgers to begin the week and put them in a first place tie with L.A.
The Reds (41-33) lead Pittsburgh and St. Louis by 2 games in the NL Central. On Monday, Barry Zito looked like the Barry of old, going 7 shutout innings while yielding just 3 hits to the Dodgers in the 8-0 Giants win. Zito had dropped his previous three starts.
The shutouts continued on Tuesday when San Fran's Ryan Vogelsong blanked the Dodgers for the second straight night. Vogelsong, like Zito the night before, went 7 innings allowing 7 hits, but 0 runs. Melky Cabrera stroked a home run to begin the fourth inning which would prove to be all the Giants would need in this one. They did add an insurance run in the same inning.
The shutout trifecta was accomplished last night by none other than Tim "The Freak" Lincecum. Like Zito, Lincecum has struggled this year having gone 0-6 and winless in his past 10 starts prior to Wednesday. Little Tim matched the seven inning workdays of his predecessors giving up just 4 hits in the 3-0 S.F. victory.
The Reds won two of three versus the Brewers Monday thru Wednesday before departing Cincy following an 8-4 loss last night.
Tonight's marquee pitching matchup features two pitchers who have yet to lose a game in June. Righthander Johnny Cueto (9-3,2.21ERA) takes the hill for the Reds and it will be lefty Madison Bumgarner (9-4, 3.10ERA) for the Giants. Cueto has had success vs. the Giants in the past, but you cannot say the same about Bumgarner and the Reds.
This is a "pick em" at SBG Global Sportsbook as both teams are listed at -$105. The skimpy over/under of 6 total runs is available on a $120/$100 moneyline.
Open an account for the best Sportsbook Parlay and Vegas Teaser Payouts in the Industry.