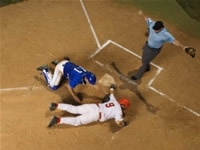 The Pittsburgh Pirates travel to the "Friendly Confines" tonight, to begin a three game series against the Chicago Cubs. This National League Central Division matchup is scheduled to start in Wrigley Field at 8:05ET.
Wrigley has been very friendly to the Cubs of late. Chicago has won their last 5 consecutive series at home. Their record is 12-3 in Chitown since 6/25. They turned the tables on the Pirates, just last week when they beat them two of three in the Steel City. Start your MLB Betting action on Pirates vs. Cubs game.
Pittsburgh enters this series off the strength of winning 3 of 4 over the weekend, albeit against the lowly Astros. They won the first three, extending Houston's losing streak to 12 games before the Astros finally emerged victorious on Sunday 9-5.
Interestingly enough, the Cubs are one of two other MLB teams who have lost 12 in a row this year, joining Houston and Kansas City. One significant note in the Pirates defeat had Garrett Jones hitting a 2 run roundtripper, which was Pittsburgh's 19th straight in road affairs. Look for that trend to continue if the winds are blowing out at Wrigley.
The Cubs are coming into tonight's contest after having taken a series from their arch rival St. Louis Cardinals over the weekend. They dropped the opener in that one 9-6, allowing 5 homeruns to the Cards.
On Saturday, Jeff Samardzija allowed 6 base on balls, including 3 to load the bases in the first inning, but they somehow managed a 3-2 win. Yesterday, the Cubbies won it in dramatic fashion with a walk off 2 run homer by rookie sensation Anthony Rizzo for a 4-2 victory in 10 innings. Check the MLB Odds for Pirates vs. Cubs game.
The Pirates (58-43) are hanging in there, trying to catch the NL Central leading Cincinnati Reds who have won 10 straight. Pittsburgh is 7-3 in their last 10, but are only 25-27 on the road thus far this season. Chicago (42-58), even with their recent success at home(26-22) are going nowhere and their roster should change during this series with the trade deadline looming tomorrow afternoon.
Tonight's starters are southpaw, Erik Bedard (5-11, 4.32 ERA) versus righty Justin Germano (0-1, 1.04 ERA) recently acquired from Boston and making his second appearance this year as a Cub.
Pittsburgh is a road favorite at -$135, while Chicago is a +$125. An over/under had not been established as of the time of this writing. Open an Account for the best Sportsbook Parlay and Vegas Teaser Payouts in the Industry.