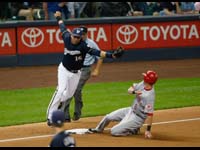 This National League Central division matchup continues tonight featuring the Milwaukee Brewers and Cincinnati Reds. The game is scheduled to start at 7:10ET in the Great American Ballpark.
It was great for the Reds to capture the opening MLB betting game of this set last night. The 3-1 win was only their second in their last seven contests. Much, if not all of the credit for last nights victory should go to Cincy starter Mat Latos who had a 1 run, 4 hit complete game performance. Oh yeah, he struck out 13 Brewer batters and had 2 singles of his own.
Norichika Aoki accounted for the only Brewer run with a home run. This marked 63 games in a row at the Great American Ballpark with at least one round tripper. Jay Bruce had a double and 2 runs batted in for Cincinnati.
Milwaukee's Ryan Braun's 18 game hit streak ended as did Aramis Ramirez mini streak of 8. The Brewers(33-40) are sitting in fourth place in the NL Central, 3 games in front of Houston, but trailing St.Louis by 5.5. They are behind tonights opponent by 7.5. The Brew Crew is an even 5-5 in their last 10 and just 15-22 when outside of Wisconsin.
Dusty Baker's Reds are the division leader. They have a won/lost record of 40-32 on the year. They also own a 5-5 mark in their last 10 tries and are 22-15 in Great American.
The Brewers are looking to righthander Marco Estrada (0-3,4.50ERA) to come off the disabled list and proceed directly to the mound to pitch tonight. He has been on the sidelines since May 23. Prior to that, he had a 5.63 earned run average in three starts. One of those games was against these same Reds when he yielded 5 runs on 8 hits in 7 innings of work.
Another righty, Bronson Arroyo(3-5,4.19ERA) takes the mound for Cincy as he did in the earlier game mentioned above versus Estrada. He has had better success against Milwaukee in allowing just 1 run on 6 hits in 6 and 2/3 innings in a win there May 7.
Cincinnati is a home favorite at SBG Global sportsbook -$152, while the Brewers are +$142. The over/under is 8.5 total runs on a $115/$100 moneyline.
Open an account for the best Sportsbook Parlay and Vegas Teaser Payouts in the Industry.