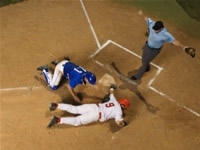 The Minnesota Twins and Chicago White Sox wrap up their three game series in the Windy City tonight, after splitting the first two affairs. The first pitch at U.S. Cellular Field, otherwise known as, "The Cell" is scheduled for 8:10ET.
This three game set got off to a shaky start for Chicago when Gavin Floyd gave up all nine runs in the 9-2 defeat at the hands of the worst team in the American League, Minnesota. The Sox pitching had been stellar of late, albeit, bolstered by playing their crosstown rival Cubs, who are trying their best to catch the Twins as perhaps the worst team around. The Sox swept the lowly Cubbies in the not so friendly confines these days, in three games over the weekend. Start your Baseball Betting action on Twins vs. White Sox game.
Past that, not including Mondays debacle, Chicago's American League entry has posted an earned run average of 0.86 while winning five of its last six. Chris Sale who has been converted to a starter this season has had much to do the the White Sox pitching success and contributed once again last night in posting a shutout for seven innings and allowing just two hits in that timeframe. The ultimate result was a 6-0 Chicago victory.
In tonight's rubber game, it will be righthander, Philip Humbers turn on the mound for the Sox, who earlier this year had a perfect game for them. As seems to happen frequently, he stumbled for a few outings afterward, but now appears back on track. He is 1-2 on the year, with a no decision his last time out against the Cubs but pitched well, yielding just 2 runs through 6 and a third innings. Check the Sportsbook Odds for Twins vs. White Sox game.
He'll be opposed by Cole De Vries, another righty, making his first major league start. At 27 years of age he has spent a fair share of time in the minors. The White Sox are a home favorite at -$145, while the Twins are +$135. The moneyline is $120/$100 on the over / under of 9 total runs.
Open an account for the best Sportsbook Parlay and Vegas Teaser Payouts in the Industry.