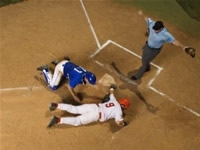 The 22-14 Tampa Bay Rays are tied with Baltimore for the lead in the AL East and are one game back of Texas for the league's best record. However, the Rays are only 9-11 outside of Tropicana Field. The Rays will be at Toronto's Rogers Centre tonight to take on the 19-17 Toronto Blue Jays.
Although their road record is not too strong, the Rays have done well against the Blue Jays when on the road. The Rays are 3-1 against the Blue Jays with all four so far being played at the Rogers Centre. The retractable roof was open for two of those games with the Rays winning both of them. One of those games was their win 7-1 win yesterday.
David Price will be starting for Tampa Bay. Price is 5-2 with a 2.98 ERA. Price has started five games at the Rogers Centre and is 4-0 in those games. Start your MLB Betting action on Rays vs. Blue Jays game
Henderson Alvarez will be looking for his fourth straight win with the Blue Jays. Alvarez is 3-2 and has given up only three runs in nineteen innings in his last three games. This includes a six-hit shutout against the Los Angeles Angels on May 4. Alvarez also has a 2.61 ERA.
The Rays will be shorthanded as Evan Longoria and Desmond Jennings are both on the disabled list. Matt Joyce is the team's active leader with a .274 average and seven home runs. Closer Fernando Rodney has a 0.54 ERA and ten saves.
Toronto has dealt with struggles involving Jose Bautista and Adam Lind. Bautista has a .194 average and only eight home runs, thus putting him at risk of losing out on reaching his 43-homer mark from last year. Lind is also batting .184. Check the Sportsbook Odds for Rays vs. Blue Jays game.
Edwin Encarnacion has worked with much of the team's effort. He has eleven home runs and 29 RBI, thus putting him on pace for career highs this year.
The Rays are -117 favorites while the Blue Jays at rated at +107. The Rays also have a +140 paying for beating the -1.5 spread. The over/under on runs for the game is 7.5. The weather in Toronto will be in the upper 60s during the game, so the roof at the Rogers Centre will more than likely be open.

Open an account for the best Sportsbook Parlay and Vegas Teaser Payouts in the Industry.