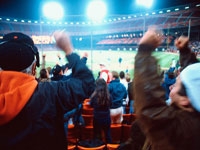 The St. Louis Cardinals gladly depart the Big Apple and head for the southern hospitality of Houston tonight to begin a three game series versus the Astros. The first pitch in Minute Maid Park is scheduled to be thrown at 8:05ET.
In New York over the weekend, the Cards fell in the first three games to the Mets, which extended their worst losing streak of the season to five games. They did come back in the fourth contest to salvage one and now hope to keep it going against a much more vulnerable group of Astros. To add insult to injury, not only did St. Louis lose the first three affairs , but were held to one run total and were no hit by Johan Santana on Friday. For what it's worth, the no hitter actually was'nt one, but an obvious fair ball down the line that would have gone for at least a double was called foul keeping Santana's hitless performance intact. Start your Baseball Betting action on Cardinals vs. Astros game.
Allen Craig starred for the Cardinals in their victory on Sunday with 3 runs batted in capped off by a two run round tripper in the 8th inning resulting in St. Louis defeating New York 5-4. The Cardinals have fallen into a virtual tie for second place with Pittsburgh in the National League Central, trailing Cincinnati by three games and four in the all important loss column. They are 28-27 for the season, 3-7 in their last 10 and 15-16 away from Busch Stadium.
Speaking of Cincinnati, the Astros, much like the Cards stopped their own eight game loss streak. They were finally victorious 5-3 against the Reds, at Minute Maid on Sunday. Houston is behind everyone in the NL Central with the exception of the lowly Cubs. They are 23-31 overall, 2-8 in their last 10 with the only good news being they are 17-12 at home. Check the Sports Betting Odds for Cardinals vs. Astros game.
Both teams will be missing sluggers in this matchup as Lance Berkman remains out for the Cardinals and Carlos Lee will not play for Houston. Tonight's pitching matchup is southpaw Jaime Garcia (3-3, 3.78ERA) vs. righthander, Lucas Harell (4-4, 4.71ERA). St. Louis is favored on the road at -$136, while Houston is +$126. The over / under is 8.5 total runs on a $120/$100 moneyline.
Open an account to take advantage of the Best Initial and Reload Bonuses in the Industry.