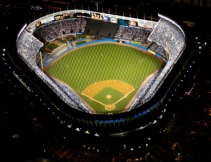 The New York Yankees were probably thanking the rain Gods who ended their Wednesday matinee in the Bronx early yesterday. They were facing a five hour plus cross country flight to play the Athletics in Oakland tonight. The game at oddly named O.co Coliseum is scheduled to begin at 10:05ET.
Prior to the rain shortened affair yesterday, the Yankees had already taken the first two games from the Toronto Blue Jays at Yankee Stadium. As Seinfeld buddy, George Costanza, the one time fictional assistant GM of the Yanks would say "and it wasn't that difficult." Sixes were wild as New York finished each affair with the same run total.
On Monday, it was 6-3 with Raul Ibanez providing the margin of victory with a grand slam in the bottom of the eighth. It was Ibanez twelfth roundtripper of the season and he is proving to be more than a very nice complementary player for the Bronx Bombers. Half of his homers have either tied the game or put New York ahead this year. Start your MLB Betting action on Yankees vs. Athletics game.
Game number two on Tuesday, saw the Blue Jays without Jose Bautista who suffered an injury to his wrist in game one. CC Sabathia returned from the disabled list and pitched well in the 6-1 victory. The aforementioned rain shortened contest saw the Yankees post a 6-0 six and a half inning official game triumph.
New York (57-34) is playing like another trip to the World Series is all but imminent. They are 10 full games ahead of second place Baltimore in the AL East and are 8-2 in their last 10. They're 27-17 away from N.Y. New York has emerged victorious in 9 straight in Oakland entering play tonight. Oakland (47-44) seems stuck in third place of the AL West, 2.5 games behind the second place Angels. They have won 8 of 10 however and are 25-21 at O.co. Check the MLB Odds for Yankees vs. Athletics game.
Tonight's pitching matchup consists of two right handers, Freddy Garcia (4-2, 5.25 ERA) for New York and A.J. Griffin (1-0, 2.63 ERA) for the A's. The Yankees are a road favorite at a -$110, while the Athletics are even money(+$100). The over / under is 8 total runs on a $110/$100 moneyline.
Open an Account for the best Sportsbook Parlay and Vegas Teaser Payouts in the Industry.