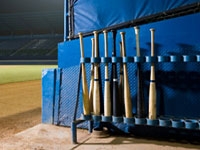 Its the middle contest of a three game set tonight as the Tampa Bay Rays once again visit the Baltimore Orioles. The first pitch of game two in this series is scheduled for 7:05ET in Oriole Park at Camden Yards.
The Rays are in the beginning stages of a nine game road trip. They finished up a homestand in St. Petersburg over the weekend by dropping two of three to the Seattle Mariners. In that series opener it took them 14 innings to emerge with a 4-3 win and they then lost on both Saturday and Sunday by the identical score of 2-1. Start your MLB Betting action on Rays vs. Orioles game.
They were only able to muster a total of 12 hits in the two defeats. In the first game of this series, last night, they stayed with that average of 6 hits a game, but were able to scratch out a 3-1 win behind a strong pitching effort by Jeremy Hellickson. The win was a significant one for Hellickson who was 0-6 in his last 10 starts and had'nt won a decision since May 16th. He held Baltimore to 1 run on 3 hits, with 4 strikeouts and no free passes in six and a third innings of work.
Brooks Conrad had a 2 run homer and Jeff Keppinger got the other run batted in to go along with 2 hits for the Rays. Adam Jones hit his 23rd roundtripper for the Orioles lone run. The O's had won 3 of 4 from the Indians in Cleveland to end last week, with the loss coming on Sunday 3-1.
With last night's victory, Tampa Bay (50-47) has gotten within one game of Baltimore (51-46) for second place in the AL East. Both teams are 5-5 over their last 10. Baltimore is also an even 23-23 in home affairs this year, while Tampa Bay is at .500 on the road at 22-22.
Tonight's pitching finds a veteran versus a rookie as ace southpaw David Price (13-4, 2.64 ERA) goes for the Rays against righthand rookie Miguel Gonzales (2-1, 2.61 ERA) who takes the hill for the Orioles. Check the MLB Odds for Rays vs. Orioles game.
Tampa Bay is a road favorite at -$135, with Baltimore at a +$125. The over/under of 8 total runs is available on a $120/$100 moneyline.
Open an Account for the best Sportsbook Parlay and Vegas Teaser Payouts in the Industry.