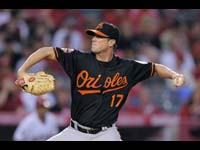 This brief two game east coast versus west coast American League series between the Los Angeles Angels and Baltimore Orioles concludes tonight. First pitch at Oriole Park at Camden Yards is set for 7:05ET.
In the series opener last night, Albert Pujols made his first appearance ever in Baltimore and promptly added it to his list of cities where he has homered. That makes thirty three stadiums and counting for Albert, who like the Angels got off to a slow start to the MLB Betting season, but he and his team have played well the past five weeks. L.A. is 23-8 over its past 31 games.
Pujols was joined by teammates John Hester, Mark Trumbo and Peter Bourjos in the home run deby and C.J. Wilson had a stellar pitch outing going seven innings while allowing but a single run. The Angels had 17 hits all told in Tuesday's 7-3 victory.
Baltimore had two round trippers of their own off the bats of Wilson Betemit and Steve Pearce. They stranded 7 runners in scoring position in this one. Leaving runners on base has been an issue for the Orioles of late. Baltimore (41-32) is 2-5 in their last 7 contests and remain in second place in the AL East, but are slowly drifting away from the first place Yankees, who they now trail by 4 games. They are 21-16 at Camden Yards.
Los Angeles (41-33) has risen to second place in the AL West, behind Texas by 4.5 games. They have won 7 of their last 10 and are 19-16 away from Hollywood. The Angels are 12-1 in their last 13 road affairs. They beat the O's, 2 of 3 in a series earlier this year played in April.
Tonight's pitching matchup is of the marquee variety. The Angels righthander Jared Weaver returned from the disabled list last week in impressive fashion by holding the Giants scoreless through six innings in the 6-0 victory. He is now 7-1 with a 2.40 earned run average.
Another ace, righthander in Jason Hammel, takes the hill for Baltimore. Hammel is 8-2 with a 2.61 ERA and surpassed Weavers feat last week by going eight scoreless innings versus Washington.
Los Angeles is a road favorite at SBG Global Sportsbook -$120, while the Orioles are a +$110. The over/under is 7.5 total runs on a moneyline of $115/$100.
Open an account for the best Sportsbook Parlay and Vegas Teaser Payouts in the Industry.