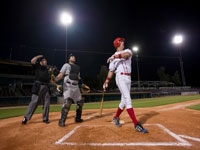 The Baltimore Orioles travel to the great northwest to face the Seattle Mariners on Monday night. The first pitch of this 3 game series is set to be thrown in Safeco Field at 10:10ET.
Baltimore (82-64) comes into tonight's action a bit on their heels after dropping 2 of 3 to their wild card counterpart of the moment Oakland Athletics. The O's lead the L.A. Angels by 2.5 games in the wild card chase, but more significantly they are within just 1 of the AL East leading Yankees. They are 6-4 in their last 10 and did salvage the last game against the A's with a win yesterday. They are 40-32 outside of Maryland. Against the spread, the Orioles are 65-76-5 overall this season.
Seattle (70-77) rests at the bottom of the AL West. They have won just 4 of their last 10 and are an even 36-36 in Washington. Spreadwise, the Mariners are 67-79-7 this year. Check the Baseball Betting Lines for  Orioles vs. Mariners Game.
Tonight's pitching probables are both righthanders. Chris Tillman (7-2, 3.39 ERA) for the Orioles and Hector Noesi (2-11, 5.54 ERA) for the Mariners. Tillman is a perfect 3-0 against Seattle in his career with a 0.83 earned run average. Against right-handed pitchers, the O's are 58-49 overall, and 4-3 in their last 10 games. Also against righties, the Mariners are 47-50 on the year, and 3-3 in their last 10 games.
Baltimore is 15-7 SU in their last 22 games. The total has gone OVER in 8 of their last 12 games. The Mariners are 3-6 SU in their last 9 games. They are 1-4 SU in their last 5 at home, but 18-7 in their last 25 games in Miami.
The Orioles have taken 5 of 6 from the Mariners thus far this season, including the last 5. However, the O's are just 3-6 SU in their last 9 games against the Mariners in Seattle. Start your Baseball Wagering on Orioles vs. Mariners Game.
Baltimore is favored on the road at a -$120, while hometown Seattle is a +$110. As the favorite, the O's are 25-21 on the year, and 1-2 in their last 10 games. As the dog, the Mariners are 39-60 overall, and 3-4 in their last 10. The under over is available at -$125 and set at 7.5 total runs.