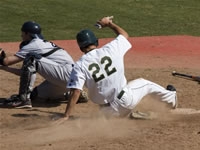 The New York Yankees depart the Bronx after a somewhat disappointing 4-5 homestand which ended Sunday. They'll travel to Motown tonight, where the term "Home Sweet Home" more than applies to the Detroit Tigers and Comerica Park. The first pitch of this four game set is scheduled to be thrown at 7:05ET and the game can be seen nationally on ESPN.
All the Tigers have done at Comerica is go 14-1 since the Fourth of July. They just swept the Cleveland Indians over the weekend at home, coming back in Sunday's contest with 5 runs in the bottom of the tenth to take the finale. Start your MLB Betting action on Yankees vs. Tigers game.
Even more impressive was the fact that the Indians had scored 3 in the top half of the inning to take a 8-5 lead. Want to be impressed even further? OK. How about all 5 Tiger runs coming after two were out. The game winner was a two run walk off homer by Miguel Cabrera. It was his twenty seventh roundtripper of the season.
Detroit had scored 10 runs in the series opener on Friday as well, but that was in a 10-2 rout. They took Saturdays contest 6-1. It was the Indians' ninth straight defeat.
The Yankees, in the meantime, took 2 of 3 from the lowly Mariners to end the week, but still suffered a below .500 nine game homestand. Even with their recent problems in Yankee Stadium, New York (63-44) still lead the second place Orioles by 6.5 games in the AL East. They are 29-22 away from the Big Apple and 5-5 in their last 10.
Detroit (58-50) kept pace with the AL Central division-leading White Sox, who they trail by just a game and a half. Overall they are 31-21 in the Motor City and also 5-5 in their previous 10. Check the MLB Odds for Yankees vs. Tigers game.
The pitching matchup in tonight's series opener finds two righthanders squaring off. Ivan Nova (10-5, 4.53 ERA) who struggled in his last outing against Baltimore, allowing 9 runs in 5 innings takes the hill for the Yankees. Tigers ace Justin Verlander (11-7, 2.63 ERA) throws for the Tigers. Verlander has not fared well against the Bronx Bombers of late, going 0-2 with a 4.91 earned run average the last five time he's faced them.
Detroit is still a home favorite in this one at -$172, while New York is a +$162. The over/under of 8 total runs is on a $115/$100 moneyline.
Open an Account for the best Sportsbook Parlay and Vegas Teaser Payouts in the Industry.