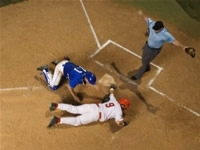 The Pirates from Pittsburgh set sail to Ohio to find themselves in a battle with the Cincinnati Reds in a three game series beginning tonight. The first pitch in game one of the set is scheduled to be thrown in The Great American Ballpark at 7:10ET.
This is the most relevant matchup between these two squads in over twenty years. The Reds have been excelling all year and have spent much of the first four months of the season perched atop the National Leagues Central division. The Pirates have surprised many onlookers by occupying the top spot for a short period of time themselves. Start your MLB Betting action on Pirates vs. Reds game.
At the moment, Cincinnati is the clear cut choice to win the division and Pittsburgh currently would be the NL's first wild card. Of course, if the Bucs could somehow pull off a sweep of the Reds in Cincy this weekend, things will be a lot more interesting in the dog days of August, not to mention September.
The Pirates departed Chicago after beating the depleted Cubbies two out of three games to begin the week. They suffered a 14-4 defeat on Monday before coming back to win a 5-0 decision and then scored 5 runs in the eighth inning alone to emerge victorious in the Wednesday finale 8-4.
Meanwhile, the Reds took the last three of four from another lowly bunch from San Diego at Great American. Cincinnati (64-41) lead tonight's opponent by 3.5 games entering this evening. They have won 9 of 10 and are 34-19 at home.
Pittsburgh (60-44) looks to close the 3.5 game gap beginning tonight. They have won 6 of their last 10, but not fared well on the road posting a 27-28 record away from the Steel City.
Tonight's pitching matchup has newly-acquired southpaw Wandy Rodriguez (7-9, 3.82 ERA) taking the mound for the Pirates and righty Mat Latos (9-3, 4.17 ERA) climbing the hill for the Reds. Check the MLB Odds for Pirates vs. Reds game.
Cincinnati is a home favorite at -$152, while Pittsburgh is a +$142. The over/under is 8 total runs on a $115/$100 moneyline. Open an Account for the best Sportsbook Parlay and Vegas Teaser Payouts in the Industry.