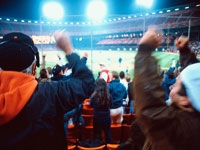 The four game series between the Baltimore Orioles and Minnesota Twins continues tonight with the O's looking for its first victory of the set. The first pitch at Target Field is scheduled for 8:10ET.
Baltimore, who were reigning supreme in the American League East for a time earlier this season, have been slumping of late and falling in the standings. In the first game of the series on Monday, the score was more indicative of a Ravens / Vikings matchup. Minnesota scored 19 runs on 20 hits, while Baltimore could only manage a touchdown and the point after, to tally 7.
The Twins came into this one having lost the preceding five in a row. Denard Span put on a show with 3 hits and 5 runs batted in, plus made two outstanding plays defensively as well. Ben Revere had 4 hits and 3 ribbies to go along with two nice catches of his own. Start your MLB Betting action on Orioles vs. Twins game
Justin Morneau had 4 hits to extend his hitting streak to 14 games and Joe Mauer had a home run too. Mark Reynolds was 3 for 4, including a roundtripper, with 4 RBI's and 2 runs scored for Baltimore.
On Tuesday, the Twins came back from a 4-1 deficit in the fifth to win it 6-4. Joe Mauer had 3 hits and now is hitting .333 for the season, trailing only American League leader Mike Trout. Adam Jones had a 3 run home run for the Orioles.
Baltimore (46-44) has now fallen behind the Yankees and Rays in the AL East. They trail Tampa Bay by just a half game, but are only the same half game in front of the fourth place Red Sox. They are 3-7 in their last 10 and have identical home and road records of 23-22. Minnesota (38-52) currently occupies the AL Central Cellar. They are also 3-7 in the past 10 and are 19-28 in the Twin Cities.
Tonight's pitchers are righthander Tommy Hunter (3-4, 6.11 ERA) for the O's who is being recalled from the minors to fill in for the injured Jason Hammel and southpaw Francisco Liriano (3-8, 4.93 ERA) for the Twins who has been the subject of trade rumors of late. Check the MLB Odds for Orioles vs. Twins game.
The Twins are home favorites tonight at a -$145, while the Orioles are a +$135. The over/under is 9 total runs on a $125/$100 moneyline.

Open an Account for the best Sportsbook Parlay and Vegas Teaser Payouts in the Industry.