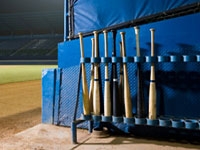 Miami departs South Beach and the crazy confines of the new Marlins Park, to venture a short distance north to the southern hospitality known as Atlanta, to begin a series versus the Braves. First pitch at Turners Field is scheduled for 7:10ET.
You won't want to be late for this one, or you may miss it, with ex "Pale Hose " lefty Mark Buehrle on the mound for the Marlins. Buehrle is not one to waste time between pitches, much to the delight of his fielders, not to mention the fans in the stands. He'll have to be a little careful however, throwing to this potent Braves offense. Atlanta is second in the National League this season scoring 196 runs. They are 8-3 over their last 11 and now sit atop the NL East. Start your MLB Betting action on Marlins vs. Braves game
Don't sell Buehrle short however, as he has 6 quality starts out of 7 chances since joining his White Sox ex boss, Ozzie Guillen with the Marlins. A lack of run support has him at 2 wins, 4 losses with a low earned run average of 2.81. He did not get a decision the last time he pitched on 5/11/12 against the Mets even though he allowed just 2 runs during 6 and 2/3 innings of work.
Coming out of the home dugout will be another southpaw by the name of Mike Minor. Minor started off the year well, with a 2-0 record and 1.69 ERA, but has struggled since. In his last three appearances he has given up 21 runs and 7 homers in 16 frames. During that span hitters have enjoyed a batting average of .377.
The Braves are 23-14 overall and 9-6 at Turners Field. The Marlins who got off to a terrible start in April, have played well in May and are now 19-17 and an even 10-10 away from Florida. Buerhle has beat the Braves both times he faced them as a member of the ChiSox during interleague play. Check the Sportsbook Odds for Marlins vs. Braves game.
Brave, Dan Uggla loves playing against his former team hitting four homers with 10 RBI's versus the Marlins last year. Atlanta first basemen Freedie Freeman is listed as day to day but is expected to play.
Atlanta is the home favorite listed at -$115, while Miami is +$105. The over / under is 7.5 total runs on a $120/$100 moneyline.
Open an account for the best Sportsbook Parlay and Vegas Teaser Payouts in the Industry.