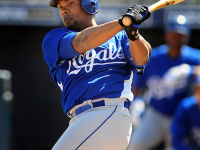 It will be game two of this three game series tonight as the upstart Kansas City Royals give it another try in the Bay after last nights 1-0 loss to the Oakland A's. The first pitch at Oakland Coliseum is scheduled for 10:05ET.
The Royals were feeling pretty good about themselves coming off winning 2 of 3 from the highly touted Los Angeles Angels over the weekend. Monday, however, was a different story. Start your Baseball Betting action on Kansas City Royals vs. Oakland Athletics game.
In his first start for the Athletics, lefty Tommy Milone shut down the Royals, in, pardon the pun, "Royal fashion," shutting them out through eight innings on three hits. Grant Balfour closed it out in the ninth for Oakland. Milone did it without a strike out while walking three. That said, the Royals could not muster a hit in the last six frames. KC's three hits came off the bats of Bourgeis, Betancourt and Escobar.
The hard luck loser in this one for the Royals was their pitcher, Luis Mendoza, who allowed just one run on five hits while striking out four and walking two, through 5 and 2/3 innings in the losing effort. Kansas City is now an even 2-2 for the young season.
Oakland is 2-3 after its extended season began in Tokyo at the end of March. This was actually the first time their opponent wasn't from Seattle and their first win since March 29 in Japan. Kurt Suzuki was a perfect 3 for 3 in this one and Josh Donaldson had the games lone run batted in. Check the Sportsbook Lines for Kansas City Royals vs. Oakland Athletics game.
After last nights pitching duel, tonight's two starters will be hard pressed to come anywhere near the level of pitching displayed then. Lefthander, Danny Duffy had 20 starts for KC last year, finishing the season at 4-8. He should be somewhat inspired as he is an Oakland hometown boy. Graham Godfrey throws from the right hand side, and was just 1-2 with an ERA of slightly under 4 last year.
Oakland is favored slightly at home -$107, while Kansa City is -$103. The moneyline is -$120 on the over/under of 7.5 total runs scored.
Open an account for the best Sportsbook Parlay and Vegas Teaser Payouts in the Industry.