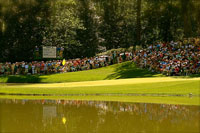 The golf betting odds that are out right now for the 2016 Masters are heavily based around who has qualified to get into the prestigious event. The Masters are notorious for having some of the strictest requirements for who can actually get into the tournament. The requirements include the following points:
Anyone who has won the Masters in the past will always qualify.

The last five years of US Open and The Open champions are eligible.

The last five season-long PGA champions are also eligible.

Winners of the last three Players Championship events will also get in.

The current American, British, Asia-Pacific and Latin America amateur champions, as well as the American Mid-Amateur champion, can all get in.

The first twelve players from last year's Masters tournament are also in the next Masters.

The top fifty leaders on the last Official World Golf Ranking list from the last calendar year will also be eligible.
These are among the extensive requirements for players to get in, thus making the overall field for the Masters smaller than what other PGA tournaments normally have. There are still plenty of favorites to look for in 2016.
Rory McIlroy is hoping to win his first Green Jacket while Jordan Spieth is looking to repeat as the champion. The two have +650 odds to win.
Bubba Watson has two Masters titles and has a +1600 line to win it in 2016. Tiger Woods, who has four Masters titles, also has +1600 odds.
Of course, just because a golfer has qualified doesn't mean he has strong odds. Bill Haas will be playing as he was in the top twelve in the 2015 edition of the tournament but he has +10000 odds to actually win. Top amateur Romain Langasque isn't even listed in the betting line although he is eligible to compete.
The field for the 2016 Masters will be smaller than what it's like for other tournaments. Only the best golfers will compete and only the strongest will actually have decent odds attached to them.