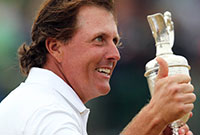 No one would've bet on golf legend Phil Mickelson coming within one put of making history – and missing. No one in the history of modern majors has ever been able to shoot 62 at an open. That's 156 years of history including 116 US Opens, 144 Open Championships, and 80 Masters. In fact no one in that tenure has been able to come as close as Mickelson did on Thursday at the Royal Troon in Ayrshire, Scotland. The 46-year old golfer played "one of the best rounds of his life" but ultimately admitted that he "felt like a higher power was working against him". After re-watching the footage, those who bet on golf might just agree.
Mickelson shot 32 for the first nine holes and was able to cover the last nine in 31. The 2013 champion shot four birdies during the final eight holes as he set himself up for the dramatic moment on the 18th. His final shot would come within 16 feet of making history, but ultimately Mickelson would miss by mere centimeters. Mickelson lined up his tee and put what seemed like a nearly perfect put. The ball traveled across the green, dipped just the tiniest amount, and literally encircled the cup. Mickelson's reaction to the ball not going in was a classic 'Kodak Moment' as an initial jerk of presumptive celebration was quickly met with tremendous disappointment. Mickelson let out a gigantic gasp, mouthed "OH MY GOD" and brought his hand to his face to perform the face palm that will go down in golf history.
Mickelson might have some people believing in the golf gods after missing that tee. Mickelson's shot was crisp and on point provoking Ernie Els, Mickelson's playing partner, to state afterwards " …he couldn't hit a better putt. The thing was going right to left all the way with no speed, so it's incredible it didn't go in."

Although he didn't set the record with 62, he was still able to match a feat only accomplished 27 other times. And while he may not have made history, Mickelson was still the first to hit 63 at the Royal Troon. At the very least he is at the top of the leaderboard, but with three rounds left to play Mickelson might not come out on top. In fact Mickelson's performance today reflects poorly on him and his play. Coming within that close of history and missing makes Mickelson appear like a bad omen, and those who bet on golf are going to perceive him as such.

In fact many sportsbooks have Zack Johnson as the favorite going into the second round. While Jonson may be trailing at 7th, his status as reigning champion is no doubt helping him to secure those odds. If history has anything to tell us it's that 10 out of the previous 11 Open champions have placed within the top ten after the first round. The previous 12th have all put up scores in the 60s as well, so both Johnson and Mickelson have a solid chance going forward.