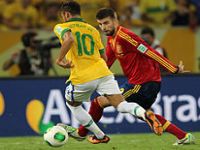 While the World Cup has been a feast for the eye's of soccer betting enthusiasts, something else is happening this summer. Transfers rumors will stir things up once preseason begins for all the important European Leagues. And will definitely have a huge impact of the odds and lines for the up coming European Leagues.
Spanish giants Barcelona is in dire need of some good Goalkeepers, in plural. Victor Valdez departure and subsequent injury, and with backup keeper Pinto leaving the club, the Goalkeeper department of this very important club needs to secure a good keeper to secure the positions. Several names were attached, but ultimately Marc-Andre ter Stegen will be the man in the starting 11. Yet the Culé squad is reportedly very close to signing Chile's National Squad keeper Claudio Bravo. Bravo has been showing a great form in the World Cup, and not just Barcelona are interested on him, but it is very likely that he will be deciding to join them.
There is no question that in the round stage of the World Cup, the Dutch squad looked in impressive form. And as it has become a tradition, a good World Cup performance equals drawing the attention of important European sides. Dutch squad left-back Daley Blind, is rumored to be soon tempted by Manchester United. Possibilities increase considerably since next season Man U will be coached by current Netherlands coach Louis Van Gaal.
After putting up a miraculous performance against Brazil, Mexico's Guillermo Ochoa became an overnight sensation as het disrupted perhaps some bet on soccer. But, scouts had Memo on their crosshairs since last season. Arsenal and Liverpool might start soon a bidding war for Ajaccio goalkeeper.
Atletico de Madrid's championship season soon meant that several of their key members might be departing the team, such as Diego Costa who is leaving for Chelsea. However the transfer market and those moves have infused some money to the team's bankroll. Diego Simeone's team is aiming to bring Spanish left attacking midfielder Santi Cazorla. Although this might not be as definitive, but the player has manifested his interest on moving from Arsenal.
Finally soccer betting odds will potentially highly impacted by the two hypothetical transfers that are being rumored on the press boxes in Brazil. First Mario Balotelli, is said to be leaving AC Milan for a move to England, the team that is very likely getting his services might be Arsenal, however, as the weeks progress more high profile teams will start to pile on trying to sign Super Mario. The other star player that is likely to make a move is Chilean superstar Alexis Sanchez. Barcelona is currently undergoing a complete overhaul that is seeing the departure of Fabregas and Xavi, and there is a high possibility that Italian giants Juventus will be making a run for the Chilean striker.