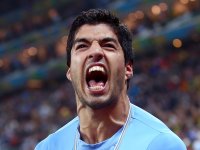 Memes aside, Luis Suarez's biting incident and the subsequent ban will send shockwaves across the soccer world and therefore, on soccer betting. The ban might be regarded as a seismic event that will not be limited to just the World Cup. It will affect the Futbol Planet and probably knock it out of orbit. It might seem a bit exaggerated to some, but considering the ins and outs of the ban, if you bet on soccer you will need to consider this.
The ban consist on the following, 9 international matches (games with his national team Uruguay) which means official National team matches, that does not include friendlies. Considering that International matches are not as frequent, this could very well mean that Suarez wont be seen in an Uruguay's shirt for quite some time. Plus, the ban includes a suspension of 4 months of ANY soccer play, administrative involvement (transfers) and he has been fined £66,000 ($112,264). Considering that he is a repeat offender one could argue that he got off easy. Just last season he literally had to start the English Premier League late due to a ban for the exact same incident.
Liverpool, Suarez football club, was open to negotiate him for a large sum of money during or after this World Cup, and after a miraculous performance versus England the whole world appeared to be at the striker's feet. Transfer rumors from every single European giants came pouring in. The world was praising his feat, except the English Sports Journalists that is. So after Chiellini went down social media exploded denouncing Suarez's actions. Did he bite him? The video does show intent, and that is enough for punishment.
However the real affected squad with the suspension is Suarez' club Liverpool. They will lose a very key player on their attack. Granted, Suarez was expected to leave, but with them not being able to negotiate him, meaning no cash influx for them. So they will very likely have to cover for his position in the complicated summer market after a world cup. Which could be compared to going shopping for a gift for a child on December 24th at 5pm on a local toy store. Soccer betting fans are advised to be cautious if they are going to lay action on Liverpool to win it all next season.
Indirectly, the other two teams that might be affected by this incident are both Spanish Giants Barcelona and Real Madrid. Before the World Cup kicked off Suarez was linked to a Spanish move on to either of those two teams. In the recent days everything was beginning to point that Barcelona was going to steal him away. The Catalunya team is going through a rebuilding phase following a disappointing season and the addition of Suarez would have been a fantastic signing, but, sfter the ban Barcelona is forced to keep on looking for a new striker.