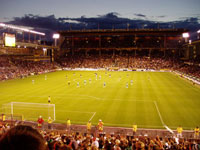 With the Euro Soccer leagues ready to get underway for the 2015 season, it's time we take a look at the 2015 season of La Liga which will kick-off on the 21st of August 2015. This is the league where Real Madrid and Barcelona will continue their battle for the leadership in La Liga this season.
The top two teams did not make many changes during the summer but the teams that will challenge them did, and we wonder if that will make for a more competitive league and race for the title. Thus, we will look at the top 3 teams in La Liga, plus the two teams who have a slight chance of winning the title in 2015.
We start with the 3 top teams in La Liga, and begin with the FC Barcelona Club who use the nickname FCB who after losing their legendary captain in Xavi, the reigning champions were thus basically unchanged for roster matters, at least for the 1st few months of this campaign. Because they have a transfer ban pending, the new players signed in A. Turan and A. Vidal will not be able to play until January 2016.
This season to start they will again be led by their star trio of Messi, Suarez and Neymar who in 2014 combined for 81 of the teams 110 goals for the season. Their defense also was outstanding only giving up a total of 21 goals.
However, in this 2015 preseason their defense struggled in 2 straight games as they allowed Atletic Bilbao and Sevilla 4 goals each. However, they still have enough talented to be favored to win the Title this season.
Then we have Real Madrid who they call RM who after the fired their manager C. Andlotti and hired R. Benitez to take a chair in RM's musical managerial chairs. Their new Spanish manager Benetiz who in the mid 2000's won 2 Liga Titles with Valencia, but seems to have some unsettled business with his star C. Ronaldo during the summer.
Then more changes took place when their goaltender and team captain I. Castillas left for Porto over the summer, and bringing in De Gea as goaltender does not seem a reality. S. Ramos is still with the team, and Ronaldo who hopefully will mend fences with the manager, as he was the top goal scorer in La Liga in 2014 with some 48 goals, and should be willing to lead his team to challenge Barcelona for the title this season.
Third is Atletico Madrid FC or the Red &Whites as known by the fans who had a very busy summer as the 2013-14 La Liga Champions because they lost some key players in A. Miranda and M. Suarez but meanwhile brought in some talent in L. Vietto and Y. Carrasco plus returning J. Martinez and F. Luis as they seek another title in this 2015 season for La Liga.
The best thing for them this summer was keeping leading scorer A. Griezmann with 22 goals, their midfield star Koke and the manager D. Simone most importantly for the team. With those 3 in tact Atletico Madrid could be the team to this season, remove the strangle hold that Barca and RM have on the La Liga.
Then we move on to the other 2 teams with possibilities, and the 1st in Valencia FC better known as Los Che as the team once again is in the top 4 rankings for La Liga in 2014 and we should see them in the Champions League in 2015. To prepare for their 2015 season they had a big spending fiasco and spent some 60 million pound to keep their trio of Cancelo, Gomes and Rodrigo this summer, and then A. Negredo. With that settled they will primarily be the same teams was 4th in their 1st season with ne manager N. Santo. They 'Los Che' possibly could be a top 3 contender this 2015 in La Liga.
The 2nd in this category is Sevilla FC known as the 'Sevillistas' who will likely enjoy another shot at the Champions League since they won the 2014 Europa League. However, they lost 2 stars in C. Bacca and A. Vidal who left to join Barcelona, so they just added some new talent.
They bring in from England S. Nzonzi and G. Kakuta, from Italy their leading scorer in 2013 C. Immobile and great winger from Ukraine in Y. Konoplyanka who is on a free transfer. Thus with the talent they possess they are close with Valencia for the 4th spot.
For the avid soccer fan who will Bet on Soccer at an Offshore Betting site, the expert predictions are that the Barca trio will again be brilliant, thus Barcelona will defend their reigning crown this 2015 La Liga season, and Atletico will finish in the 2nd spot.