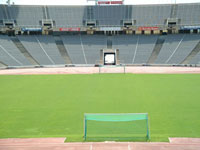 As the 2014-15 European Soccer Leagues are coming to a close soon, this coming Sunday the 17th of May 2015 we have a English Premier League game between Arsenal playing at Manchester United with the game being played at the Old Trafford in Manchester at 11:00 AM ET with early betting odds has Arsenal at +190 and Manchester United at + 117 with the total at 2 1/2.
With some games remaining the Arsenal team is not in line just yet for a finish in the top three or an automatic spot in the Champions league. The team is coming off its 1st loss in 3 months and now only 2 points above United, while Manchester United had their 1st win that ended their somewhat prolonged loss skid. So now these two clubs are playing for a spot in the 2016 Champion League Tournament!
If you're a soccer fan and Bet on Soccer at an Offshore sportbook your team Manchester United has been great at home games, but disastrous in road games losing 3 straight, then broke out of their slump and beat Crystal Palace in a hard game 2-1. Their scorers in that game were M. Fellaini and J. Mata, and neither had been able to score in the previous 3 straight losses.
To date this 2014-15 season has been somewhat disappointing as their season comes to an end, that started with absence of midfielder M. Carrick, due to injuries, who is now out for the rest of this season. His absence in the midfield will be a concern for Manchester against Arsenal. There is some good news for United, and that is W. Rooney and Van Persie should be ready for this Arsenal match-up. That's important since Rooney loves to play against the Arsenal squad, as he scored the winning goal last November at the Emirates in their win over Arsenal 2-1, and that totaled his 14th goal against Arsenal in his career. Van Persie who previously played for Arsenal should help his team coming off the bench, as in the previous 2 games against his team he scored in both those games at Old Trafford. The United team stands to date undefeated at Old Trafford against Arsenal since back in 2006.
If you are Arsenal fan your team had a loss last week that was there 1st in a while as they were shocked on their home field with the loss 1-0 to Swansea. That was their 1st loss since back in the London Derby in February 7th 2015, and during that period between the 7th of February and their loss to Swansea they had won 9 of those 10 games. In that controlled the ball for 68% of the game and had some 23 shots at goal, but the Gunners could just not score and finish it that loss.
Now it appears the Arsenal Manager Wenger is ready to shake up his roster in this game against Manchester United after he has used the same starting lineup for 5 straight games. Therefore, it's highly likely that the former United striker D. Welbeck could make a start after suffering an injury to the hamstring that kept him out of the lineup for the last 2 games. Welbeck is that same guy that playing against his old team United back in March he scored the winning goal in their 2-1 defeat over United in the FA Cup at Old Trafford.
For several years the Arsenal team has struggled in the big games when playing the bit teams, but recently they had a decent record against other top teams. There defense has improved against the top teams and has been somewhat impressive as of late. In 3 games against Chelsea, Manchester City and Liverpool they only allowed one (1) goal in all of those three games.
The media experts are predicting that the Manchester United's offense will struggle, while the Arsenal defense holds and the game will end in a 1 to 1 draw!