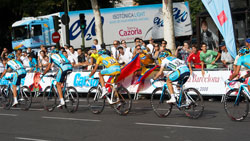 The 2015 Vuelta a Espana will take place from August 22 to September 13 and will include many of the world's top cyclists. Chris Froome, the recent winner of the Tour de France, will be among the competitors in this prominent race. He has a +250 betting line while Nairo Quintana has a +195 advantage. Many other notables in the cycling world will be competing including Alejandro Valverde Belmonte at +425 and Fabio Aru at +625 just to name a few.
Of course, the path for the Vuelta a Espana will be a good one to watch for. This is a path that could easily influence the overall winner of this big event.
The event will start with a short time trial at Puerto Banus on the southwestern coast of Spain. After this, there will be a few series of flat and medium mountain stages heading up to a rest day in Andorra la Vella on September 1.
The next few days after the first rest day will entail an extended series of mountain stages from Andorra la Vella out to Ermita del Alba in Quiros on the northern end of the country. This is expected to be the toughest part of the competition.
After a rest day on September 8 in Burgos, there will be a brief individual time trial of 24 miles that will keep the event going. This will lead into a few more mountain stages with one going around San Lorenzo del Escorial just outside Madrid. Like always, the race will end in Madrid in the final stage.
The route for the 2015 Vuelta a Espana will be challenging as it gets to the northern end of the country with all those mountain stages in the middle. One point for certain is that the challenge that will come about will certainly be interesting and worthwhile. Whether Chris Froome will keep his momentum going from the Tour de France is unclear but this should prove to be quite an appealing event for all sportsbook betting fans to check out.