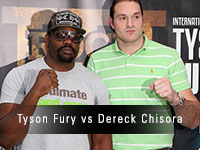 It looks as though it's going to be a toss-up, but boxing betting odds do favor Tyson Fury (-225) over Dereck 'Del Boy' Chisora (+175), and not just because the former sports one of the most badass names ever -sort of a hybrid between Iron Mike Tyson and Nick Fury as played by Sam Jackson- , while the latter's nickname reminds you of the main character of the British sitcom Only Fools and Horses. You shouldn't let that fool you, though; despite his silly name, Chisora has been one of the most controversial English boxers in recent memory. Among his antics are kissing and slapping opponents and spitting water in people's faces -guess he's a firm believer that title does not dictate behavior.
That is not to say that Fury is a choirboy, which he isn't by any stretch of the imagination. In fact, Chisora might seem tamer by comparison due to the fact that he appears to have matured somewhat. Once he was prone to let his temper get the best of him, but now he seems to be making better decisions, such as making sure he's in proper shape before a fight -something neither man managed to accomplish during their first bout back in 2011. Sure, that maturity seemed to have gone out the window when Chisora and Fury had to be pulled apart during a public head to head in Manchester this past May.
There is a lot at stake, though. Not only the fact that Chisora will want to be the first to beat Fury, just like Fury was the first to beat Chisora. Furthermore, the winner of this bout will get a shot at the WBO Heavyweight Championship. Since they last met Chisora has had better competition including Vitali Klitschko and David Haye, and although he lost both fights, he may have gained lots of experience -not to mention that he's won his five last matches after the Haye bout. On the other hand, Fury has only fought twice in the past 15 months, versus Steve Cunningham and Joey Abell -two fights with Haye have been cancelled due to injury.
Fury struggled against Cunningham, who even knocked Tyson down at one point. Neither Cunningham nor Chisora are big punchers, so that may work in Dereck's favor. Still, if Fury sticks to a plan -as unlike as that may seem- of keeping a distance and peppering jabs, he should come up on top once again, both in the ring and as far as boxing bets go.