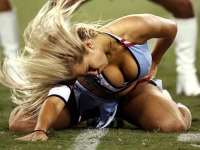 A new team has gotten into the Arena Football League betting circle. Naturally, this team happens to be one that comes from a city where betting is a big habit among so many people. This new team is the Las Vegas Outlaws.
The Las Vegas Outlaws have 50/1 betting odds to win the Arena Football League title this year. This team will not be all that big on betting circles as it is just an expansion team. Naturally, people often hold expansion teams to low regard.
The Outlaws will play at the Thomas and Mack Center on UNLV campus. This team is owned by Vince Neil, the lead singer of the famed rock band Motley Crue. This makes for the fourth AFL team to have people associated with music own some control over a team or even own it altogether.
J.J. Raterink, has moved all around the AFL over the years since coming into the league in 2006. He will be the quarterback for the Outlaws as they start the season. Donovan Morgan, a fellow wide receiver with Raterink while in Los Angeles, was signed to the practice squad but has since gone back to the Kiss.
Aaron Garcia will the head coach of the Outlaws. He has never coached before, thus contributing to the Outlaws' poor 50/1 Arena Football gambling odds. Garcia played as a quarterback in the league for nearly twenty years and once won a title with the Jacksonville Sharks.
Whether or not the Las Vegas Outlaws will actually be competitive this year is uncertain. One point that is for certain is that the Outlaws will be an interesting team to watch thanks to the efforts that the team will be getting into with so many players and coaches getting together for the first time. Considering the history that Vince Neil had during his rock and roll heyday, it would not be all that surprising to see this team really bring out a sense of edge that will make it stand out.