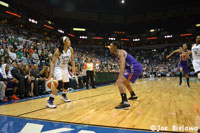 The Minnesota Lynx became the first team in the 2015 WNBA season to reach the playoffs. The Lynx did so in just two-thirds of the season. The team got a 18-6 record to start the season and has been especially powerful this year as the team has a +200 favorite line to win the WNBA title this year.
Much of this is thanks to the Lynx having one of the strongest offenses in the league. The Lynx have 77.6 points per game this year and also lead the WNBA with 18.3 assists per game. In addition, the team has the third-best defense in the league with 71.5 points being given up per game this year.
There are also four players with the Lynx who are getting ten or more points per game this year. Maya Moore has 21.5 points per game this year, second only to Chicago's Elena Delle Donne.
Lindsay Whalen has 11.7 points per game as well. Seimone Augustus and Sylvia Fowles have both gotten more than thirteen points per game this year although they have dealt with injuries issues that are keeping them from being as productive as Moore and Whalen.
Rebekkah Brunson has one of the top rebounding totals in the WNBA this year as well. Brunson has 8.6 rebounds per game this year with about one third of those rebounds coming on the offensive side.
The closest competitor the Lynx have in the Western Conference is the 15-8 Phoenix Mercury. DeWanna Bonner, Brittney Griner and Candice Dupree all have fifteen or more points per year this season, thus making them real threats to the Lynx this season. Whether they will make a real splash in the playoffs is yet to be seen though.
The Minnesota Lynx have a strong chance to win the 2015 WNBA title this year. As of mid-August, there are only three other WNBA teams with at least fifteen wins and they are all just trying to catch up with the Lynx at this point.