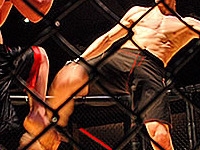 The main undercard of the UFC 144 event this Saturday in Saitama, Japan will feature a light heavyweight match between Quinton Jackson and Ryan Bader. Both fighters are 205 pounds in weight while Jackson is about one inch shorter than Bader.
Quinton "Rampage" Jackson is one of the most prolific MMA fighters in history with a 32-9 record. The Memphis native is a former UFC Light Heavyweight Champion and was named the Most Outstanding Fighter by Wrestling Observer Newsletter in 2007. Jacksonhas fought only four times in the past two years and has gone 2-2 in those fights. His most recent fight was in September 2004 when he lost in the fourth round of a championship fight with Jon Jones. Start your UFC Betting action on Jackson vs. Bader fight.
Jackson fights with a wrestling technique and a slamming ability in mind. Most of his fighting involves striking with very few takedowns involved. He has avoided about 82% of all takedowns on him.
Ryan "Darth" Bader is a native of Reno who has a 14-2 total record. He competed in collegiate wrestling at Arizona State University and was an All-American in 2004 and 2006. In 2008 he beat Vinny Magalhaes in two minutes to win the Light Heavyweight title in the Ultimate Fighter 8 competition. Bader went 1-2 in 2011 with losses to Jon Jones and Tito Ortiz. His last fight was in November when he knocked out Jason Britz in 1:17.
Bader works with takedowns and has been 42% successful with them. His experience in collegiate wrestling has made him ready to work with a variety of different wrestling moves that involve working closer to the floor. He has also avoided 76% of all strikes that were made by his opponents. Check the UFC 144 Odds for Jackson vs. Bader fight.
Jackson is listed as the favorite for the match. Jackson has a line of -260 on him as the favorite. Bader is the underdog for the fight with a line of +200. This will make for a great undercard for anyone to watch and bet on.
Open an account to take advantage of the Best Initial and Reload Bonuses in the Industry.