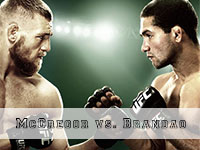 What were the UFC odds of mixed martial arts preeminent promotion returning to Dublin, Ireland? It took five years UFC Fight Night 46 will be held on July 19, 2014 at The O2 amphitheatre, and it will feature the main event of hometown boy Conor McGregor versus Diego Brandao. McGregor has seamlessly made the transition from boxer to UFC fighter; as a matter of fact, he brings together the bluster of a boxer with the danger of a purple belt in Brazilian Jiu Jitsu. The only problem is that Brandao is not only actually from Brazil, but he holds a Brazilian Jiu Jitsu black belt. Black trumps purple, at least on paper.

On the other hand, Brandao will not only have the home crowd rooting against him, but he hasn't had that much time to prepare for this fight, seeing as he was named as injured Cole Miller's replacement only a little more than a month ago. In addition to that, an injury forced him to pull out of a bout with Brian Ortega on May 31, and has recently moved from one training camp in Albuquerque to one in San Antonio, in the process switching from Greg Jackson and Mike Winkeljohn to Pete Spratt and Rodrigo Pinheiro. All of this turmoil can't be good for Brandao's chances.
If McGregor has the stigma of being a former boxer, Brandao's cred can't be much better thanks to his reality television background. However, if they feel like they have something to prove they will certainly put up one hell of a fight, which will only benefit UFC betting fans. This will be both men's first fight of the year, but overall experience is on Brandao's side, having debuted in 2005 as opposed to McGregor's 2008 debut. Also, the Brazilian has shown submission skills now and then, which could help him against the Irishman's power of the punch. The key for McGregor might be to stick to the stand-up game and maybe wait for an opening for another Knockout of the Night.