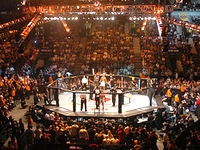 The Ultimate Fighting Championships 152nd edition came off without a hitch Saturday night in Toronto's Air Canada Centre. No cancellations occurred as was the case with its predecessor UFC 151.
However, there was almost a hitch in the events main bout when Jon Jones had his hands full with Vitor Belfort. Jones was favored by as much as a -$800 preceding the action with the under/over set at just 1.5 rounds. Someone must have forgot to tell Belfort that the fight was supposed to end in Jones' favor as he came close to ending the affair in the first round himself.
Belfort caught Jones with a full on armbar, appearing to damage Jones elbow in the process. Jones hung tough though and did not tap out. He then came back three rounds later ending the fight at 1:03 of the fourth round with a barrage of elbows causing Belfort to be the one who ultimately submitted. Check the UFC 153 Odds.
In other action, Demetrious Johnson was crowned the first Flyweight champion ever in the UFC, culminating a 4 man tournament with Joseph Benavidez, who he defeated with a decision, being considered the favorite going in. Middleweight Michael Bisping was victorious over Brian Stann also by a decision.
We now move on to UFC 153, scheduled for a mere three weeks after UFC 152. The 153 event, to be held in the HSBC arena in Rio de Janeiro, Brazil, is scheduled to take place on October 13.The opening lines are already available from sbgglobal.eu's sportsbook odds page.
For the main event, UFC Middleweight Champion Anderson Silva will be taking on former The Ultimate Fighter star Stephan Bonnar. For that one, Silva is already listed as a prohibitive favorite at -1300, with Bonnar at +700.
In the Welterweight division, American Jon Fitch steps into the ring against Brazilian Erick Silva. This one is expected to be a little closer, with Silva at -120 and Fitch at -110. Also in the Welterweight division, you can watch Demian Maia fight Rick Story. Story is listed at -105, while Maia is a -125. Make sure to check back to the SBG Sportsbook for any changes in these odds between now and October 13. 51 overall, going 2-5 in their last 10. The under/over is 9.5 total runs if you're willing to lay $125 to win a $100.
Open an Account for the best Sportsbook Parlay and Vegas Teaser Payouts in the Industry.
Check the Game Podcast: