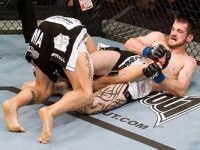 At UFC 144 – Pettis vs. Lauzon is just one spectacular matchup among a completely stacked card. Pettis became a household name in the UFC world after he defeated Ben Henderson via decision before the WEC was absorbed by the UFC. Pettis isn't remembered as much for the win as he is for the acrobatic off-the-fence kick he landed in the final round, which probably won the fight for him. Pettis has had some trouble adapting to the UFC, though, losing a decision to Clay Guida before eeking out a split decision over Jeremy Stephens. Lauzon also has suffered in his career from some inconsistency. He hasn't been able to string three wins together since 2007. Start your UFC Betting action on Pettis vs. Lauzon fight.
Lauzon is coming off of another bout where he entered the undercard, at UFC 136 against Melvin Guillard. Lauzon came out and made quick work of Guillard, submitting him via rear naked choke only 47 seconds into the first round. At the time, Guillard seemed to be making his way toward a number one contender bout.
Lauzon enters the fight with Pettis as an underdog as well (+205), and isn't shying away from the role. Lauzon is hoping to play the spoiler again. When it comes to the submission game, Lauzon almost surely has the advantage. The biggest question when it comes to Lauzon, however, is his cardio. He has been criticized for gassing early. Pettis, on the other hand, has gone five rounds before without much sign of tiring. He did so against Henderson in a frenetically paced fight that he eventually won. Check the UFC Odds for Pettis vs. Lauzon fight.
The standup advantage has to be given to Pettis, although some have criticized his takedown defense as lacking. The winner of this fight may have the opportunity to fight for the number one contender position in the lightweight division. The odds are pretty heavily in favor of Pettis for such a close matchup, but Lauzon may struggle to snap his streak of inconsistency against such a diverse striker.
Open an account for the best Sportsbook Parlay and Vegas Teaser Payouts in the Industry.