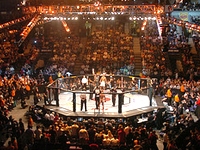 The UFC 144 event in Japan will feature a middleweight match between Yushin Okami and Tim Boetsch. Okami currently holds a 27-6 record while Boetsch has a 14-4 record. This is a match that will pit two people who are experienced in MMA competitions together in Saitama, Japan during this pay per view event.
Yushin "Thunder" Okami is a 6'2″, 185 pound fighter out of Kanagawa, Japan. He has been competing in UFC matches since 2006. He has not fought an MMA bout in Japan since 2005. Okami is 3-2 in his five most recent bouts. His latest bout was in August 2011 when he lost in a middleweight title bout with Anderson Silva. Okami was knocked out by Silva in the second round. Start your UFC Wagering action on Okami vs. Boetsch fight.
Okami is known for having one of the most varied fighting styles in the UFC. He particularly works well with defense. He has avoided 65% of all strikes on him. He has also avoided 83% of all takedowns put against him.
Tim "the Barbarian" Boetsch is a 6′, 185 pound fighter who comes from Pennsylvania. He has won six of his last seven matches. He won the light heavyweight championship in a 5150 Combat League even in January 2010 and vacated the title later than year when getting into UFC. His last bout was a win by a unanimous decision against Nick Ring back in September 2011. Check the UFC Lines for Okami vs. Boetsch fight.
Boetsch uses takedowns in most of his fighting. He is particularly experienced with wrestling and has won five of his fights by submission. Boetsch has also avoided a majority of strikes and takedowns that were performed against him.
Okami is currently being listed as the clear favorite for the match, predominantly for his home-country advantage. Okami is currently favored with -450 odds. Boetsch has a +300 line on him at this time. Both fighters must compete in this event for any action to be taken on the bet. This will be a challenging bet in spite of the clear odds difference between both fighters.
Open an account for the best Sportsbook Parlay and Vegas Teaser Payouts in the Industry.