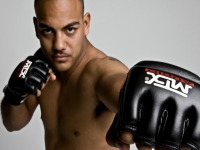 The UFC 144 pay per view event will occur at the Saitama Super Arena in Saitama, Japan. It will include the Lightweight championship match between Frankie Edgar and Ben Henderson. It will be the fourth defense that Edgar is holding for the title.
Frankie "the Answer" Edgar has an enviable 14-1-1 record. The 5'6″, 155 pound fighter out of New Jerseyhas held onto the Lightweight title since 2010. He has gotten seven wins and one draw since his only career loss back in 2008. Start your UFC Betting action on Frankie Edgar vs. Benson Henderson fight.
Edgar has deal with victories by decision for the most part. However, his most recent match in October was a fourth round knockout of Gray Maynard.
Edgar uses takedowns in most of his fights to get an advantage over fighters. He has also avoided about 74% of all strikes against him. Edgar works with a wrestling technique for many of his fights but he also works with a cardio technique for some of the events as well.
Ben "Smooth" Henderson has a total record of 15-2. The 5'9″, 155 pound fighter from Arizona has won his last three matches all by decision. He was the WEC Lightweight champion for almost all of 2010 before losing it to Anthony Pettis. He has since moved into the UFC ranks and has gone 3-0 there, including a win over Clay Guida in November. Check the UFC Odds for Frankie Edgar vs. Benson Henderson fight.
Henderson uses takedowns as his key to winning. He works with a ground and pound technique for takedowns. He has also avoided about 63% of all takedowns and strikes against him. He does not work with many strikes and prefers to work with submission techniques against his combatants.
The current odds on the Edgar vs. Henderson list Edgar as the narrow favorite. The line on Edgar is -130. An even money line is current used for Henderson. The odds will be subject to change in the days leading up to the fight. This should make for a very exciting match for the evening.
Open an account for the best Sportsbook Parlay and Vegas Teaser Payouts in the Industry.