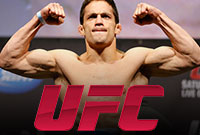 UFC betting fans are foaming at the mouth waiting for the McGregor vs. Diaz rematch. While that is arguably the biggest bout of the year, we still have to get through UFC 201. But UFC 201 isn't a burden, and it shouldn't be looked at as one. While its publicity pales in comparison to UFC 202, sportsbook users aren't always looking for the most popular event. In fact many UFC betting fans are looking for a bargain deal, and UFC 202 can definitely provide some lucrative wagers. Like with all things betting the bigger the risk the bigger the reward and one of the fights with the biggest reward is Jake Ellenberger vs. Matt Brown. Let's check in on the sportsbook odds and see what kind of insight they provide.
UFC 201

Jake Ellenberger 1 1/2 (+105) +265
Matt Brown 1 1/2 (+175) -325

It's clear that Brown is the heavy favorite heading into Saturday's match, and with good reason. All though Brown has only won one out his last 4 fights, his performance against the world's premiere fighters has many UFC betting fans ranking Brown as one of the best. If Brown is unable to dominate Ellenberger however, it's likely that status will drop.

Ellenberger has also been in the slumps lately, he's lost six bouts since 2012. Only two of those losses have come by decision, the others Ellenberger was either knocked-out or tapped out via submission. The fact that he's been dominated by his opponents have led many critics to write him off completely. While it may be true that Ellenberger's best days are behind him it would be foolish to throw in the towel before he even steps inside the octagon.

While Ellenberger is clearly on the ropes, Brown needs a win just as bad. The odds are definitely in Brown's favor, as well as the statistics. Brown has one of the more powerful swings in his division with five of his last six victories coming via knockout. Even more remarkable is the fact that the 35-year old Brown has never been knocked out in his storied fighting career. With a record of 20 wins and 14 losses it's clear Brown can take a beating. With this in mind you can expect Ellenberger to rely heavily on his wresting-infused "wet blanket" style of fighting.

Ellenberger's record is slightly better sitting at 30 – 11 with 55% of his losses coming via decision. Ellenberger performs best when he sticks to his roots and turns the fight into a wrestling match. Brown may not be the best at defending takedowns, but once on the mat his jiu-jitsu gives him an advantage when looking for submissions. Ellenberger may be able to perform an easy takedown, but once on the mat the fight could go in either direction.

If the fight goes on the mat it becomes unpredictable, however if Ellenberger tries to exchange blows with Brown then it'll be a one-sided ordeal. Ellenberger may have a mean right hook, but it's doubtful that Brown will allow Ellenberger to hand him his first knockout. The sportsbooks are certainly on Brown's side, as well as with the majority of the internet. But if you're a Nebraska native who believes his fellow Omahan can get the job done, then that +265 wager might have your name on it.