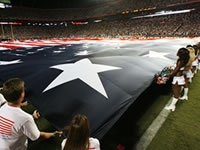 The Thursday, Sept.11th 2014 NCAA FB Week 3 game between the Houston Cougars (1-2, American) and the No. 25 BYU Cougars (3-0, Independent) at the LaVell Edwards Stadium in Provo, Utah was won by the BYU Cougars 33-25 in a hard-fought game.
In a difficult game for both teams, it was BYU QB Hill's 360 yards passing and his dual-threat talent in the game that permitted BYU to win. He carried the ball some 26 times for 160 yards and a TD, and passed for some 200 yards on 21 of 34 passes. RB Williams rushed for a total of 139 yards and scored two touchdowns for the BYU Cougars, who have now won their first three opening games of 2014. That's the first time since in 2008 and moves them up in the rankings after their victory over Texas last weekend 41-7.
In this game, the BYU Cougars took an early 23-0 lead, but the Houston Cougars scored some 15 consecutive points before halftime, bringing the score to BYU 23, Houston 15 at half. In the game BYU had a player ejected, 11 penalties for 98 yards and they turned the ball over three times. Houston had 8 penalties for 83 yards and no turnovers.
Even as Houston lost the game, their QB O'Korn had a great game as he passed for 307 yards on 30 of 52 passes and 3 TDs and that also included a hail-Mary pass as time expired in the 1st half for 45 yards and a TD to Spencer, who for the game had 10 receptions for 133 yards. Also receiver Greenberry for Houston had 6 receptions for 74 yards and 2 TDs. The Houston LB Matthews gave his team a lot of credit for not folding after they were losing 23-0 early in the game, a said his fellow teammates displayed a lot of heart and passion.
Both Cougar teams played each other last season and BYU won the game with only two minutes remaining, as QB Hill passed an 11 yard TD pass to receiver Ridley to win 47-46 Houston.
In Thursday's game BYU had a fake punt in their first series of the 2nd half that failed and another bad point in the game for BYU was a personal foul on Koroma and his ejection from the game. BYU kicker Samson hit a 266 field goal to put his team up 26-15 late in 3rd quarter, and then RB Williams ran for a TD of 2 yards at the beginning of the 4th period. Also, BYU scored on its 1st series of the game with a 32 yard TD pass to receiver Blackmon, but it was annulled as they had a penalty for illegal formation.
Houston also struggled as early RB Jackson fumbled in the end zone and BYU recovered for a 2 point safety. Also Houston's field goal kicker Bullard attempted a kick of 38 yards early in the 2nd quarter but due to a bad hold the ball barely cleared the ground. In BYU's first two games QB Hill rushed for five TD, and threw three TD passes and average 342.5 yards of total offense in those games.
If you wager at SBG Sportbook and bet on college football, stay tuned as BYU may surprise some top ten teams this 2014 season.