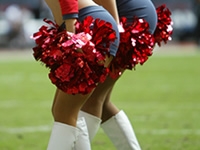 The average offshore bookmaker customer knows that in order to set up the lines on preseason games, depends a lot on the team reports generated after the minicamps. It is when the coaching staff shapes how the depth on each department will look like. The performance of the players, both rookies and veterans, so with this into consideration. How the players are responding on the aforementioned minicamps. Let's take a look onto which of the rookies are reportedly performing well, and those who are not.
Teddy Bridgewater, the rookie quarterback for Minnesota, is really giving the Viking's coaching staff a lot to think about. Bridgewater is not likely to be rushed to start this coming season, but considering on how the Vikings have had problems in the quarterback position, he could be making his way to the starting role. Reports coming from Minnesota state that Bridgewater is showing determination and hard work that has all the entire Vikings organization extremely happy.
In the other end of the spectrum, Allen Robinson of the Jacksonville Jaguars, has had a bit of an unfortunate summer. Robinson is a talented receiver, but during the OTAs and minicamp he is now under the injury list due to a hamstring injury. What's worse is that such an injury means a couple weeks of rehabilitation. Offshore Bookmakers have taken this into account on when calculating the odds for the Jaguars intentions.
The Cleveland Browns are looking to rebuild their team, and drafting Johnny Manziel is proof of that, however another Brown's rookie is making waves and could become an active member of their rotation. Conerback Justin Gilbert, during practice and the minicamps have shown enormous potential that might land him a spot on the starting roster. He has been extremely impressive so far.
Similar to Allen Robinson, JadaveonClowney has recently went under the knife for a sports hernia surgery, and reports from the Houston Texan's organization are saying that he might be out until training camp. That is, of course, if Clowney recuperates properly. But considering how much of a natural talent Clowney might have some time to adjust to his new team.