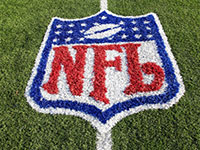 With the 2014 NFL Season beginning soon, avid sports fans will like the NFL's new simulated tracking system that will be introduced this season and will provide actual on-the-field statistics.
Players from time to time dispute statistics amongst themselves: Richard Sherman of Seattle has contended that he is actually a better corner than Peterson of Arizona and he also is more dominant than Crabtree of the 49ers. Now with this new NFL simulated system he could have the numbers to support his claims.
This 2014 the initial phase of the system is to be introduced by the NFL, which will permit fans to view a wide range of stats involving their favorite players, which could include speed, distance traveled, routing, and separation to name a few. This will be made possible as each player will be wearing two tiny detectors under their shoulder pads that track the player's movements during the game.
The company that is responsible for these new technologies is Zebra Technologies and they have implemented similar systems in other industries. This new system to start will operate in 17 NFL Stadiums which include the Falcons, Ravens, Panthers, Bears, Bengals, Broncos, Lions, Packers, Texans, Jaguars, Dophins, Patriots, Saints, Raiders, 49ers, Rams and Redskins.
This is possible as the players in their 2011 Collective Bargaining agreement signed off for the use of new technology. This data may be enhanced and used in presenting television programs. In the future it could be made part of an app or second screen experience, which naturally viewers would pay more for.
For the couch coaches, you might say, hey that guy was open, but was he really? A spokesman from the technology company explained that if a player's details show the closing distance of a defender and the offensive player, you could determine if the play could really be completed.
It appears that it should then be easy with this technology for a coach to use the in-game system to gain an edge. Thus the NFL will not allow the teams to use the gathered data for competitive reasons in 2014. However, the information wants to be free and coaches want information and they will more than likely figure out how to get it.
In the future it appears there could many reasons to use this system to track other player information like his heart rate during the game and many other player related statistics that could play a role in the NFL monitoring the game or games.