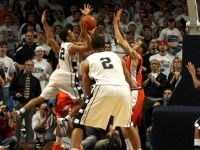 Yesterday, the world of college basketball betting saw a landmark happen, Mike Krzyzewski, Coach K, of Duke University reach his 423rd win breaking the ACC record previously held by one Dean Smith. The fourth ranked Duke Blue Devils beat the Georgia Tech Yellow Jackets. This win will definitely boost the morale of the Blue Devils as they begin to prepare for the upcoming tournament.
Quinn Cook from Duke had a total of 17 points, all of them in the second half, to help his team beat a very difficult Georgia Team. On the other hand the Yellow Jackets had a strong performance from Chris Bolden, who scored a total of 16 points. Georgia Tech, even though their record doesn't look very impressive, have played well for the most part of the season and had lost plenty of their games by single digit differences.
College basketball betting experts expect for the Blue Devils to make an impact coming into March Madness trying to capitalize the wonderful season Coach K is having, by surpassing the 1000th win mark on January and becoming the most winning head coach in the ACC.
Wins like this means that Duke is tournament ready, they will have to cap off the rest of the month in strong form if they wish to reach the Tournament with high morale and ready to contend for the tittle. Currently, they are not favorites to get to the Final Four, but they do have that X factor that a coach of the caliber of Coach K can give them. It will be interesting to see how the rest of the season plays out for Duke.
As for college basketball betting, you can expect the Blue Devils to keep this victory pace as March madness approaches. This school has a very strong Basketball tradition and they are not about to go down without a fight, do not count them out of the race.