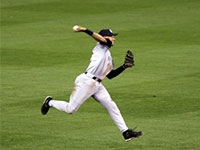 The Pittsburgh Pirates sail back to the shores of the Allegheny River tonight and will be docked there for awhile as they begin an eleven game homestand tonight against the Arizona Diamondbacks. The first game of this 4 game set will start at 7:05ET in PNC Park.
The Bucs return to Pittsburgh after going 6-4 on their latest road trip. While anything over .500 away from home must be considered a success, the journey ended on a down note when Pittsburgh lost 2 of 3 to division leading Cincinnati to end the week. Start your MLB Betting action on Diamondbacks vs. Pirates game.
The Pirates were shutout by the Reds on Friday, 3-0 thanks in most part to the Reds Mat Latos throwing 8 plus shutout innings. On Saturday, Cincy emerged victorious once again 5-4 to extend their win streak to five. The Pirates did salvage the series finale, 6-2 behind a strong pitching effort by A.J. Burnett. Neil Walker and Andrew McCutcheon both homered for Pittsburgh.
Arizona spent the weekend in the City of Brotherly Love and lost the last two of three for their efforts. B.J.'s brother, Justin Upton hit the 100th roundtripper of his career in the DBacks 4-2 win on Friday. Interestingly enough, big bro B.J. celebrated his centennial home run shortly thereafter for Tampa Bay. On Saturday, Arizona was shutout 3-0, by Roy Halladay with a little help from the Phillies bullpen. Check the MLB Odds for Diamondbacks vs. Pirates game.
Ryan Howard had a walk off hit yesterday to win it for the Phils 5-4. Pittsburgh (61-46) continues to trail NL Central leader Cincinnati by 4.5 games. They have won 6 of 10 and are an impressive 33-16 at PNC Park. Arizona (55-53) remains in the hunt in the NL West. They are 3.5 games behind second place L.A. and trail the division leading Giants by 4. They're 6-4 in their last 10 and 25-29 away from the desert.
Tonight's pitching matchup has two southpaws with almost reversed records taking the hill. It will be Wade Miley (12-6, 2.98 ERA) for the DBacks and Erik Bedard (5-12, 4.83 ERA) for the Pirates.
This is still considered a "pick em" with both teams listed at -$105. The over/under is 8 total runs on a $110/$100 moneyline. Open an Account for the best Sportsbook Parlay and Vegas Teaser Payouts in the Industry.