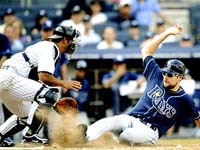 This three game series between the Tampa Bay Rays and New York Yankees concludes tonight with the Bronx Bombers going for a sweep of their American League East rivals. The first pitch at Yankee Stadium is scheduled for 7:05ET and can be seen nationally, if the MLB Network is part of your cable package.
Game one on Tuesday was highlighted by Russell Martin's grand slam and a dominant pitching performance by Andy Pettite. Pettite gave up only two hits, one to B.J. Upton that just alluded Derek Jeter and the other a single by Carlos Pena. He fanned 10 while walking just 2, in seven and a third innings of work. Nick Swisher went 2 for 4 with a run batted in and a run scored for the Yanks. Tampa committed 3 errors in their 7-0 loss.
Last night, the Rays hitting woes continued as they could only tally one run on four hits against Ivan Nova with the lone run coming in the ninth inning of a 4-1 defeat. Robinson Cano and Mark Texeira both homered for New York. Swisher had another RBI and scored a run in this one as well.
Entering tonight's finale, the Rays find themselves in third place in the AL East, after having at least shared the division lead for much of the early season. They are 31-25 overall and trail tonight's opponent by a half game, but just one in the loss column. They are 12-14 away from the Bay called Tampa and just 3-7 in their last 10 contests. Conversely, New York is 7-3 over the past 10 and 16-11 in Yankee Stadium, while posting a 31-24 record on the year.
Tonight's pitching matchup is of the marquee variety, with two southpaw aces facing one and other. avid Price with a 7-3 win/loss record and a 2.44 earned run average takes the hill for the Rays opposed by CC Sabathia, he of the 7-2 win/loss total and 3.68 ERA for the Yankees.
New York is 10-3 in their last 13 sports betting games in the Bronx. The Yankees are a home favorite at -$140, while Tampa Bay is +$130. The over/under is
7.5 total runs on a $120/$100 moneyline.