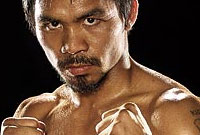 Boxing betting fans should be happy – or confused, as Manny Pacquiao himself is – at the news that the Filipino boxer is coming out of retirement to fight in the main event of an HBO pay-per-view card in Las Vegas on either October 29th or November 5th. His opponent is yet to be determined. Also yet to be determined? Whether Pacquiao is actually planning to return to the ring. If Top Rank promoter Bob Arum is to be believed, Brock Lesnar is not the only fighter taking on a few extracurricular in addition to his day job. As The Guardian puts it, "Manny Pacquiao will fight again." And the South will rise again.
According to Arum, Pacquiao "has given us the go-ahead to shop for a venue and an opponent," which might include Floyd Mayweather or Terence Crawford, but not Adrien Broner. However, a statement from Pacquiao's Facebook page says that he wants "to make it clear — my priority is my legislative work. My next fight has not yet been discussed." As fans who bet on boxing should know, Pacquiao is currently serving as Senator of the Philippines – which should leave him plenty of time to train and generally prepare for his big comeback. That is unless, of course, he truly is taking his official duties seriously, which would make him the first politician in the history of the world to do so. Sort of like "Mr. Pacquiao Goes to Manila." But Jimmy Stewart he isn't.

Arum is adamant that Pacquiao wants to come back, though. The promoter ruled Adrian Broner out as a potential opponent because the four-time world champion's asking price was a "crazy number." What, like Avogadro's number? And as happy as boxing betting fans might be to see Pacquiao again – kind of like how your dad is psyched whenever Poison goes on tour –, people who bet on boxing are crossing their fingers that Mayweather won't come out of retirement too. Floyd Mayweather Jr. vs. Manny Pacquiao in 2015 was the "Fight of the Century," but only because it took place about a 100 years too late. That, and not Pacquiao vs. De La Hoya, was the true "Dream Match" – it put the capacity crowd at the MGM Grand Garden Arena to sleep. That was Pacquiao's next-to-last fight. His "last" bout – which Arum didn't even promote as such – was a rubber match against Tim Bradley in April, which Pacquiao won by unanimous decision. He was elected to the senate in May.

"As of now, I am retired," Pacquiao said immediately following that match, but no savvy boxing betting fan ever thought that it was anything more than a 10-minute retirement. Pacquiao is 58-6-2 with 38 knockouts, and is the only octuple champion; that is, the only boxer to win titles in eight different weight divisions – this guy drops and puts on weight faster than Christian Bale. So if push comes to shove and they can't find an opponent in time, why not just book a match with the guy who's won gold medals in eight different categories? Manny Pacquiao vs. Michael Phelps has a nice ring to it.