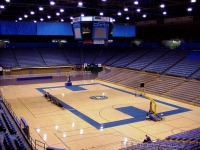 One of the biggest stories that will impact the 2015 WNBA betting season will come from one player who is not going to compete. The Phoenix Mercury's Diana Taurasi, who won a title with the team last year and was the Finals MVP, has chosen to play in Russia this year instead. Taurasi has spent the last eleven years with the Mercury and has three titles, thus making this move all the more surprising.
Her Russian team, UMMC Ekaterinburg, has signed a contract that stated that she must play exclusively with that team in 2015 and not in the WNBA or any other league. Much of this move is based on the amount of money that she will be getting.
Taurasi is getting paid about $107,000 per year with the Mercury. This is the highest value that a player can get in the WNBA. However, many coaches in the WNBA are getting $250,000 or more each year.
Meanwhile, her salary in Russia is at about $1.5 million. This has created a significant debate as to how WNBA players are being paid and how many others in the league, particularly the men who coach them, are being paid more even those those coaches are not necessarily the most prominent figures in the league.
This could potentially impact the 2015 WNBA betting lines as they come out. The Mercury were listed at 2/1 alongside the Minnesota Lynx as the team most likely to win the 2014 title. However, Taurasi's departure could force much younger star Brittney Griner to become the new captain of the team. The potential for Candice Dupree to compete for this role will be worth watching.
The only point that is certain is that Diana Taurasi is planning on coming back for the 2016 WNBA season. She also has every intention to compete in the Olympics that year in Brazil. However, the extreme salary disparity between the WNBA and what others pay elsewhere could potentially cause some players to flock overseas, thus making the WNBA betting scene a little harder to predict or figure out.