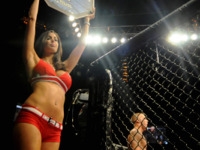 Last night in San Jose, the UFC FUEL 4 program was hoped to boost the future of the UFC both in ratings and potential moving forward. Of most interest was probably the middleweight bout.
After Anderson Silva quickly disposed of Chael Sonnen in UFC 148, the search for a new challenger had begun. Enter Chris Weidman and Mark Munoz.
Weidman's plan going in was to use his superior strength to dominate the fight. He came out in round one and kept to that scheme, holding top position and looking for the guillotine to end it early. In the second round Weidman took up where he left off once again dominating the action at the beginning of the round. Start your UFC Betting action on Faber vs. Barao fight.
Then, Munoz suddenly freed himself from Weidman's restraint. Unfortunately for Munoz, his excitement was short lived as he rushed Weidman, only to find himself on the wrong end of a horrendous elbow shot.
Down went Munoz and the referee was forced to stop the bout as Weidman delivered blow after brutal blow to Munoz. Weidman is now 5-0 in the UFC and seems to be deserving of the next shot at Silva.
In other action last night, light heavyweight James Te Huna, got the best of Joey Beltran with his superior striking ability. Beltran has been known to endure much punishment and still come back for more. But on this night, Te Huna was relentless with continual strikes forcing an end to the fight in Te Huna's favor. Check the UFC Betting Lines on Lombard vs. Boetsch fight.
Aaron Simpson got the decision over Kenny Robertson in a bout where Robertson attempted several failed submissions and Simpson expressed regret he was'nt able to finish off his opponent versus the decision.
Karlos Vemola also seemed bent on a submission ending decision over Chris Carmont. However, it was the transition out of the holds that ultimately gave Carmont the win. Other bouts saw TJ Dillashaw quickly dispose of Vaughn Lee and Rafael Dos Anjos earn a unanimous victory over Anthony Njokuana.
Open an account to take advantage of the Best Initial and Reload Bonuses in the Industry.