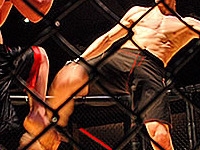 The UFC 144 pay per view MMA event in Saitama, Japan will include a fight between two featherweight competitors. This fight will feature Hatsu Hioki competing with Bart Palaszewski. Hioki has a25-4-2 record while Palaszewski has a 34-13 record.
Hatsu Hioki is a native of Nagoyaand is 5'11" and 145 pounds. He is the former TKO Featherweight Champion, a Shooto Lightweight Champion and a Sengoku Featherweight Champion. He has won his five most recent bouts. His last one was his first ever UFC match. He defeated George Roop in October 2011 at UFC 137. Hioki won the match in a split decision. Start your UFC Gambling action on Hioki vs. Palazewski fight.
Nearly half of the matches that Hioki has won were by submission. Hioki works with takedowns for many of his fights. He also has a black belt in Brazilian Jiujitsu.
Bart "Bartimus" Palaszewski is a native of Warsaw, Polandand currently fights out of the outer suburbs of Chicago. He is 5'9″ and weighs 145 pounds. He has been competing in MMA since 2002 and has won five of his last six fights. His last fight also occurred at UFC 137. He defeated Tyson Griffin in 2:45 by knockout. This was the first bout that he had in almost a year. He was forced to skip a fight in 2011 due to an injury.
Palaszewski is a striking fighter who also has a Brazilian Jiujitsu black belt. He throws at least twenty punches in a round on average and has connected on about a third of his punches. He has also avoided about sixty percent of strikes against him. Check the UFC Betting Odds for Hioki vs. Palazewskih fight.
The odds for this match are expected to be very close because of the strong competition that the two fighters have had and from how they have both had the same amount of time to rest in between their matches. Hioki is listed as the favorite with the current line on him set at -195. Palazewski is the underdog but he is only listed with a line of +155. The line may be closer before the match.
Open an account for the best Sportsbook Parlay and Vegas Teaser Payouts in the Industry.