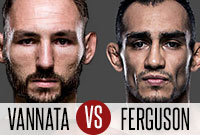 UFC betting is always ready to witness a colossal beat down, and if sportsbooks' odds are any indication of what will happen, you can expect a giant trashing at UFC Fight Night 91. On Wednesday night UFC newcomer Landon Vannata (8-0 MMA, 0-0 UFC) will be stepping into the octagon to face one of the world's most menacing fighters Tony Ferguson (20-3 MMA, 10-1 UFC). Ferguson has an established reputation within the UFC as one of the most fearsome 155-pounders in the world. In fact he was actually poised to square-up against someone of his caliper, Michael Chiesa. However, Chiesa suffered a back injury and will be unable to compete. After the injury the UFC scrambled to find a fighter to fill his absence, and the only fighter to have the 'cahones' to take on Ferguson was Vannata.
Vannata will be making his first appearance in the UFC and it is quite an entry. Ferguson is ubiquitously considered one of UFC's front runners for a title shot within the coming years, and facing him as his first opponent has left many thinking that Vannata bit off more than he can chew. However Vannata isn't letting Ferguson's reputation chip away at his confidence.

"I'll take anybody, anytime, anywhere. I'm going to make an impression in this fight." Vannata told MMAJunkie. "Nobody knows me, everybody's counting me out. I've got nothing to lose."

Those who have seen Vannata in action speak highly of him. Unfortunately word of mouth won't win him this bout, and UFC betting isn't taking it into consideration when creating the odds.

Landon Vannata 1 1/2 (+115) +510
Tony Ferguson 1 1/2 (-135) -720

Ferguson is riding the momentum of his seven-fight win streak and he will be looking to continue that success against the unproven Vannata. Some critics have mentioned the risk heading into this fight for Ferguson. If he wins he really isn't winning much considering he's such a heavy favorite. However, if Ferguson goes down then his reputation in the UFC will as well.

"It depends on what you call risk because it depends on nothing for me," Ferguson was quoted as saying. "Any person that goes across from me and signs on the dotted line, they know what they get themselves into. They're going to propel themselves to the same level as me."

Vannata would certainly like to propel himself to that level, and Vannata is well aware of the opportunity that has presented itself. The 145-pounder isn't just making an entrance into UFC he's blowing down the door. Vannata is confident he'll be able to show both the UFC and Ferguson exactly what he has.

"Creativity, explosiveness, a lot of gracefulness," Vannata stated. "I've got moves like nobody else. I'm an intelligent fighter and you guys are going to witness something special. I don't think anybody in this division is a good matchup against me."

"(His game) is predictable. Everybody thinks he's crazy and wild, but he does the same thing every single time. I think it's predictable, easy to read."

"It's a little slander, man," Ferguson responded to Vannata's comments. "It's awesome. I love to hear people talk like that. You've got a nice little Thundercat that's coming up, talking his way up. Good for you, buddy. You think I'm predictable? You're going to have your hands full."

If fans of UFC betting like to favor the underdog then they can take the lucrative wager on Vannata. It's tough to pick an unproven fighter against one of the UFC's premiere, but at +510 odds the bet might be too auspicious to pass up.