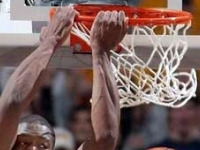 Team USA began these 2012 Olympic games by comfortably beating France 98-71 on Sunday. Comfortable won't even be the word to describe the next two wins coming up for them in the tournament this week.
There really should be a slaughter rule to protect teams like Tunisia and Nigeria from being embarrassed against groups like Team USA. At least France had NBA representation including Tony Parker to make the contest somewhat interesting for one quarter.
Parker could manage only 10 points himself and was shaking his head afterwards wondering how any team could beat the Americans. Ronny Turiaf, Kevin Seraphin and Boris Diaw also offered an NBA presence. Check the Sportsbook Odds for the 2012 Olympic Games.
But with Kevin Durant leading the U.S. entry with 22 points and 9 boards, the likes of Kobe Bryant and Carmelo Anthony took a backseat as the rest of Team USA coasted by the french. Melo did match Durant's 9 rebounds. LeBron James decided to enjoy his evening by dishing off to teammates, compiling more assists (8) than shots taken (6).
Tunisia dropped their opener to Nigeria 60-56. Enough said? Tonight's contest, if you can call it that, will begin at 5:15pm, eastern time and can be seen nationally on the NBC Sports Network. Start your Online Sportsbook action on the Olympic Games.
Tunisia is the lowest FIBA ranked entry participating in the Olympics. They sit in the thirty second spot of the rankings. They do not have a single NBA player, former or otherwise on their squad. Big man Salah Mejri did compete in the NBA summer league for the Utah Jazz, so they've got that going for them.
Look for the American team to feature the likes of New Orleans rookie Anthony Davis, along with James Harden and Andre Igoudala. This would also be a good time for the United States to learn more about international officiating given their 23 fouls versus France. Possibly some three point shooting drills should be on tap as well. Team USA is a 55 point favorite. The over/under is 164 total points.